Quakertown Community School District Blazes a Trail for Blended Learning Programs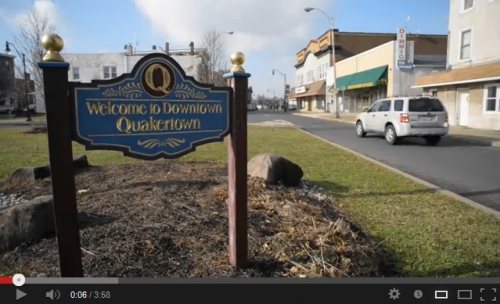 Quakertown Community School District (QCSD) in Bucks County, Pennsylvania has seen an increase in student achievement, test scores, advanced placement course enrollment, and engagement among students since implementing a blended learning program in 2008. The program combines online learning with traditional classroom instruction, and fosters a flexible environment in which students learning needs are met on an individual level. The Alliance for Excellent Education, along with Public Impact, talked with students, school and district leaders, and analyzed achievement results and compiled their findings in an innovative, interactive video profile. The report, "Quakertown Community School District: A Systematic Approach to Blended Learning That Focuses on District Leadership, Staffing, and Cost-effectiveness," is the first in a series of interactive video profiles highlighting school districts that utilize digital learning to improve teaching and learning.
"Quakertown is a role model and leader among school districts for its innovative use of digital learning to improve student engagement and achievement. They have blazed a trail for other school districts to transform learning with the smart use of technology," said Bob Wise, president of the Alliance for Excellent Education and former governor of West Virginia.
From 2011–12 alone, the graduation rate in the district increased from 88 percent to 95 percent. The interactive video profile, which includes interviews with district teachers and administrators, notes that at the core of the program's success is flexible, personalized learning that fits every student's needs. Quakertown's success is documented as part of the Alliance's "Project 24" to show the importance of districts preparing a comprehensive plan detailing how to incorporate technology to boost learning outcomes.
QCSD Superintendent Lisa Andrejko sees the district's blended learning approach as a way for students to learn anytime and anywhere. "As a superintendent I think one of my goals might be to never have to call a snow day because learning needs to take place at all times," Andrejko says. "So some of our efforts have been looking at technology to be always available for students whether they're sitting in a classroom, or whether they're on their iPhone, or whether they're at Grandma's house, or if they're at home on a snow day."
You can view the full profile online here. To learn more about QCSD, read Superintendent Andrejko's article, "Delivering Instruction Online" on AASA, The School Superintendents Association.
Categories:
Uncategorized