President Obama Sees Deeper Learning in Action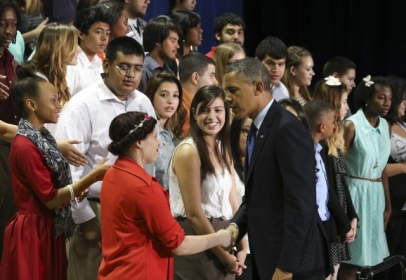 On Thursday, May 9, President Obama went to Austin, Texas, to talk about jobs, skills, and opportunity. His first stop was a school: Manor New Tech High School. That was no accident. As the President put it, "Every day, this school is proving that every child has the potential to learn the real-world skills they need to succeed in college and beyond."
He was right. Manor (pronounced May-nor) New Tech is part of the New Tech Network, a group of 115 schools in eighteen states that are designed to foster students' abilities to understand core content and use their knowledge to think critically and solve problems, and to communicate effectively—the deeper learning competencies that are essential for their future. The school, like the others in the network, accomplishes this goal by integrating technology into every classroom and engaging students in a project-based approach that enables them to apply their learning to authentic situations.
President Obama mentioned some of these projects in his address: "A history teacher might get together with a science teacher to develop a project on the impact of castles in world history and the engineering behind building castles. Or a group of students might be in charge of putting together a multi-media presentation about moral dilemmas in literature as applied in World War II." In addition, as the President noted, students take part in internships, which give them hands-on experiences in real work settings, and give as many as 200 speeches during their school career, which develops their communications skills. "I can relate," Mr. Obama quipped.
In its short life—it was started in 2007—Manor, with its highly diverse student body, has been enormously successful. Scores on state tests exceed the state average, its graduation rate is greater than 90 percent, and the college-going rate of graduates is nearly 100 percent. And, as President Obama pointed out, 60 percent of those college-bound seniors were the first in their families to go on to higher education.
But he also pointed out that the school accepts students by lottery, because demand exceeds the available capacity. Nationwide, the number of schools that operate to develop students' deeper learning abilities, while growing, remains small. There is a need for changes in policies, such as testing requirements, and more funds for innovation, to enable more such schools to flourish.
President Obama laid down the challenge: "There are too many kids in America who are not getting the same kinds of opportunities through no fault of their own. And we can do better than that. We can do better than that. Every young person in America deserves a world-class education. We've got an obligation to give it to them."
You can listen to President Obama's speech at Manor New Tech High School online here.
Categories:
Uncategorized