Preparing Students for High School Graduation and What Comes Next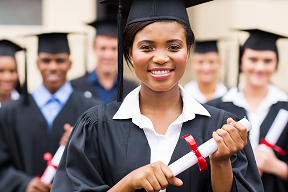 As the nation continues to work toward raising the graduation rate, it is critical that high school graduates are prepared for what comes next. New reports look at the necessity of college and career preparation, the cost of remediation if students are not adequately prepared, and what steps states and governors can take to build on progress and ensure all students graduate from high school.
The majority of students are not taking courses that prepare them for college and careers, according to a recent study by Education Trust (Ed Trust). The organization reports that only 8 percent of high school graduates in the class of 2013 completed a full college- and career-ready curriculum. The report, Meandering Toward Graduation, breaks down curriculum types into four categories: college-ready, career-ready, college- and career-ready, and no cohesive curriculum. The findings detail the percentage of students that fall into each category, as shown below: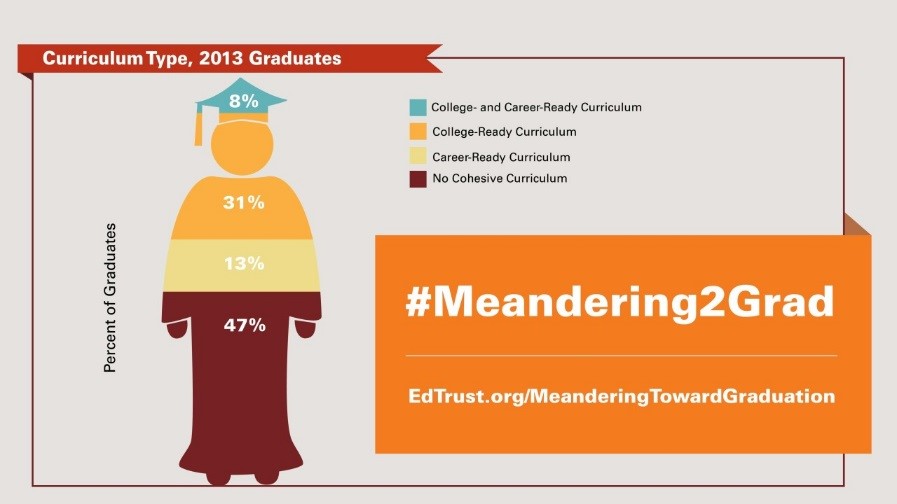 The report reveals that students in different socio-economic groups are completing different types of curricula. For examples, students from low-income families were 14 percentage points less likely to complete a college-ready or career-ready curriculum when compared with their more advantaged peers says a recent Straight A's newsletter article on the report. The findings also show achievement gaps between students by race when examining mastery of course content through GPA.  Check out the report for more: https://edtrust.org/resource/meandering-toward-graduation/.
Students who are unprepared for the demands of college may find themselves required to take remedial courses. More than half a million college freshmen, or one in four students who enter college in the fall after graduating high school, find themselves in this position, according to a new report by Education Reform Now and Education Post. These courses are costing students' families nearly $1.5 billion annually, the report says, with students paying on average an extra $3,000 and borrowing almost an extra $1,000 during their first year of school. The findings also highlight that remedial education is not limited to low-income students, but affects hundreds of thousands of families across all income levels.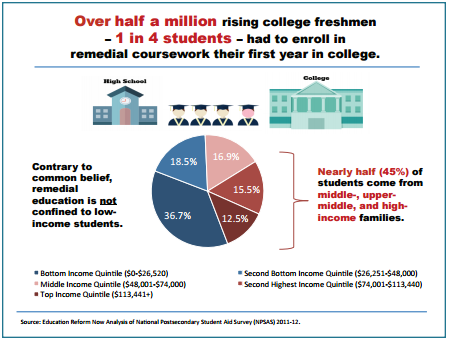 Education Reform Now seeks to promote more rigorous standards, particularly the Common Core, in K-12 education, NPR reports. "Their contention is that students are underprepared because high schools aren't doing their jobs." NPR quotes Michael Dannenberg, a co-author of the report, who explains that "Because of underpreparation and poor performance, we're seeing people having to pay more for college." Dannenberg sees policy as a route to change this, noting that "High school policy changes could make college more affordable. And higher ed policy changes could promote better rigor and academic preparation in high school."
In an opinion piece on Education Week, Matt Gandal, president and founder of Education Strategy Group and former senior adviser to then-U.S. Secretary of Education Arne Duncan, discusses the importance of Getting Serious About College and Career Readiness. With the passage of the Every Student Succeeds Act (ESSA), Gandal explains that there is an opportunity to build upon the progress toward the goal of college and career readiness for all students, while ensuring that work to establish rigorous and meaningful expectations for students is not undone. More states today have rigorous standards in place that have been validated by employers and high education, he writes, and yet many states are reconsidering standards. He argues that especially as states address their accountability systems under ESSA, it is critical for states to build upon progress toward higher standards, and not retreat from it.
Gandal outlines several actions states that are serious about college and career readiness can take to maintain and build upon progress, including resisting pressures to lower the standards, delivering supports and closing gaps, and focusing on the "career" side of college- and career-ready.
As schools work to adequately prepare students for life after high school, more needs to be done to ensure that students reach that next step. Alliance president and former governor of West Virginia Bob Wise and president and CEO of America's Promise Alliance John Gomperts share ways that state governors can improve thousands of underperforming schools, and ensure that all students graduate from high school. Right now, there are still more than 4,000 students are still dropping out every school day and 1,235 high schools failing to graduate at least one-third of their students, they write.
With a goal of a 90 percent graduation rate in mind, they share six ways governors can help the nation reach this mark:
Use accurate data to make decisions
Focus on the students who need it most
Direct resources to schools that need them most
Do not lower the bar or game the system
Ask hard questions
Take this opportunity to finally connect K–12 education with postsecondary education
More on each item here: http://hechingerreport.org/six-ways-for-state-governors-to-help-raise-the-nations-high-school-graduation-rate/.
Categories:
Uncategorized