Playing Around: How Games Can Support Deeper Learning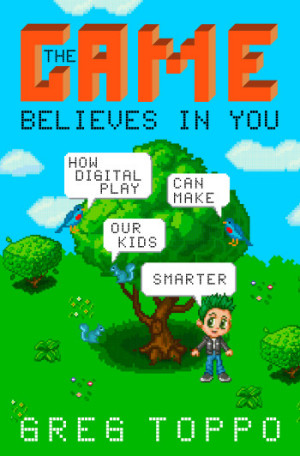 As part of the Alliance for Excellent Education's (Alliance's) ongoing series about how districts and schools foster deeper learning outcomes for students, the Alliance contacted Greg Toppo, the national K–12 education reporter for USA Today and author of the book The Game Believes in You: How Digital Play Can Make Our Kids Smarter, to discuss the impacts of game-based learning on teachers and students. Below is an excerpt from the discussion with Toppo.
Alliance: The deeper learning competencies define a set of knowledge, skills, and beliefs— such as the mastery of core academic content, collaboration, and self-directed learning—that students develop in classrooms and schools with a deeper learning focus. As you have studied the games-in-school movement, what student competency comes up again and again?
Toppo: As I look at the six competencies, I can't think of any that DON'T come up again and again among learning games enthusiasts. This is not to sound glib. Good, well-designed learning games—and, actually, well-designed games of any sort—tick all of the boxes. They help players master core content, think critically, and solve complex problems. In many of them, collaboration is key, as is communication.
The fifth and sixth competencies—"learn how to learn" and "develop academic mindsets"—are not as obviously covered with learning games, but in many ways they're the most important things that games do. Because games encourage players to spend a lot of time with the material, playing and experimenting and trying out different solutions, they help develop a natural love of learning and, for lack of a better term, a "growth" mindset.
Alliance: Many examples from your book highlight the work of individual teachers, such as Eric Nelson, a former social studies teacher at North Lakes Academy Charter School in Minnesota. What did you discover about scaling this games-focused approach at a school network or district level?
Toppo: The jury is still out on whether most of the promising and creative experiments I write about in the book are scalable, but what encourages me is that teachers are developing them to solve problems they see as needing solutions. And the solutions are bottom-up. In Eric Nelson's case, he was confronting a group of high school freshmen who had no interest in global politics, so he developed Fantasy Geopolitics, a simple game that uses fantasy football mechanics to get students interested in what's happening worldwide. He found that competition (with no actual prize, mind you) was a kind of pixie dust that made everyone sit up and pay attention. It's a great idea that requires little heavy lifting from the teacher. He's since renamed the company FanSchool and offers several games.
One of the most encouraging things I heard from teachers like Eric was that after a while, they could simply step back and let students run the games. I remember meeting Mark Carnes, a longtime Barnard College history professor who has developed a huge collection of role-playing history games dubbed Reacting to the Past. Early on, Carnes found that the games were enabling students, as they gathered around a seminar table, to take more control and ownership of the class. That's what good teachers want. Why not give it to them?
Alliance: How are teachers preparing for and being prepared for this shift in teaching and learning?
Toppo: In a way, that's the beauty of this movement—it really doesn't take much of a shift. As many theorists in this space say, good games are all about learning. Even with a seemingly mindless game like Angry Birds, the thrill of playing is in the learning that quite naturally takes place. Level by level, it allows players to get better and smarter in a very short time span. Good teachers see that and recognize how to leverage it.
Alliance: Any digital platform can provide data for easy assessment of learning. Are there ways educators can use games for assessment purposes?
Toppo: At a basic level, nearly all digital games are little more than assessment machines; that's one of the things that makes them so appealing. What is leveling up but passing a test?
That said, some games do it better than others, and very few games do it systematically, in a way that tells teachers about students' skills and attitudes. Add to that the privacy concerns that many schools have and you can see where assessment can become a tricky enterprise.
But that's changing pretty quickly. I've been interested to see how far efforts like GlassLab, among others, can take assessment; they've spent years trying to make the results of games visible, understandable, and useful to teachers. It hasn't been easy, and what I fear most is that funding and energy for efforts like these will run out before we get good tools.
Alliance: How can a game-focused approach to instruction reach all students, no matter their socioeconomic or racial status, and who has had the greatest success bringing this approach to traditionally underserved students?
Toppo: I've been really impressed by the big thinking in this field. At first glance, it would seem that bringing digital games to millions of kids might require a firehose of funding and prohibitively expensive, cutting-edge equipment. But many of the most successful efforts in this space are low-tech, free-to-play games. The two that come most readily to mind are the iCivics games, inspired by retired U.S. Supreme Court Justice Sandra Day O'Connor, and the Mission US history games. Both are free and compatible with older computers. The barriers to entry are, in other words, quite low.
I see all kinds of creative teacher-driven efforts. Just a few weeks ago, I met Adam Bellow, the CEO of Breakout EDU, a bottom-up effort that turns the idea of the "escape room," a recreational team sport in which a group of people use their wits to break out of a locked room, inside out, inviting users to break into a locked wooden box. Teachers can buy the boxes for $119 ($89 for the plastic version) or they can simply use an old locking tool chest and hunt for locks and other supplies at their local hardware store. Lesson plans, many of them written by teachers, are available to purchase on Breakout EDU's website, but so far no teacher has accepted payment; it's all a huge, teacher-driven giveaway. More broadly, the Lego Foundation's free Six Bricks effort is built around nothing more than six Lego bricks.
Alliance: What digital games do you recommend?  
Toppo: Well, the DragonBox math games are first-rate, as are the ST Math games developed by the MIND Research Institute. I'd also recommend Wuzzit Trouble developed by Stanford University's Keith Devlin, who is also NPR's longtime math guy. Daren Carstens' lovely Math Doodles games are a treat.
I was a judge for the recent Games for Change learning games competition, and one of the finalists we picked (in addition to DragonBox Numbers and the newest Mission US game) was NOVA Labs' amazing Evolution Lab game. It really should be in every biology classroom in America. Did I mention that it's free?
In addition to Newton's Gravity, I have a few guilty pleasures, including the great puzzle game Monument Valley and W.E.L.D.E.R., a devilishly difficult word game. I've also spent way too much time recently with the logic game Swapperoo, the number game Beyond 14 and, if you can stand the ads, the free physics game Brain Dots.
Now the Alliance wants to hear from you! Are you using game-based learning in your classroom or school? What are your favorite games and why do you love them? Post your comments below and join the conversation.
Categories:
Uncategorized