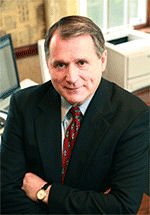 Willard Daggett
International Center for Leadership in Education, President
Willard R. Daggett, EdD is president of the International Center for Leadership in Education. He is recognized worldwide for his proven ability to move education systems towards more rigorous and relevant skills and knowledge for all students. He has assisted a number of states and hundreds of school districts with their school improvement initiatives, many in response to No Child Left Behind and its demanding adequate yearly progress (AYP) provisions. Dr. Daggett has also collaborated with education ministries in several countries and with the Council of Chief State School Officers, the Bill & Melinda Gates Foundation, the National Governors Association, and many other national organizations.
Before founding the International Center for Leadership in Education in 1991, Dr. Daggett was a teacher and administrator at the secondary and postsecondary levels and a director with the New York State Education Department, where he spearheaded restructuring initiatives to focus the state's education system on the skills and knowledge students need in a technological, information-based society.
Dr. Daggett is the creator of the Application Model and Rigor/Relevance Framework, a practical planning and instructional tool for determining the relevance of curriculum and assessment to real-world situations. Dr. Daggett's Rigor/Relevance Framework has become a cornerstone of many school reform efforts throughout the United States. Dr. Daggett has authored eight books about learning and education, twelve textbooks and numerous research studies, reports, and journal articles. He also serves on a number of advisory boards.
Dr. Daggett has been recognized as a distinguished alumnus by both Temple University and the University at Albany, State University of New York. He received Albany's Excellence in Education Award and Temple University's 2007 Gallery of Success Award.
Dr. Daggett demonstrates a special commitment to individuals with disabilities. He and his wife, Bonnie, volunteer their time and lend their support to Wildwood Programs in upstate New York. Wildwood serves the needs of people of all ages who, like their daughter Audrey, have neurological impairments/learning disabilities or autism, by enabling them to become the best that they can be.