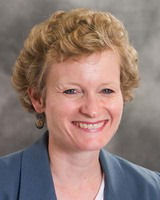 Susan Lusi
Portsmouth, Rhode Island Schools, Superintendent
Susan Follett Lusi is currently the Superintendent for the Portsmouth, Rhode Island Schools. She has previously served as an educational consultant whose major areas of interest lie in teacher quality and accountability. Lusi had been vice president of public policy at the Alliance for Excellent Education after serving as Chief of Staff for the Providence Public Schools in Providence, RI.
Prior to that, Lusi was Assistant Commissioner for Support Services at the Rhode Island Department of Elementary and Secondary Education. While at the department, she worked to further the State's initiatives in teacher quality and support and intervention in failing school districts.
Lusi also worked for the Coalition of Essential Schools where she focused on issues of resource reallocation and school change. She is the author of The Role of State Departments of Education in Complex School Reform (Teachers College Press, 1997).
Lusi holds a Ph.D. in public policy and a Masters in Public Policy from Harvard University, as well as a MAT in social studies from Brown University.