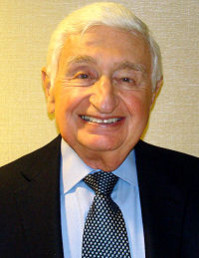 Harold Williams
J. Paul Getty Trust, President Emeritus
Harold M. Williams is counsel to the law firm of Skadden, Arps, Slate, Meagher & Flom. He is also president emeritus of the J. Paul Getty Trust in Los Angeles, CA, and was president and chief executive officer for seventeen years. Prior to assuming his position with the Trust, Mr. Williams was the chairman of the U.S. Securities and Exchange Commission and has served as dean and professor of management of the Graduate School of Management, UCLA, and chairman of the board of Norton Simon, Inc.
Mr. Williams is the chair for the Committee for Effective School Governance and the UCLA School of the Arts and Architecture Board of Visitors and is the cochair of the Blue Ribbon Committee for Arts Education of the LAUSD and the California Citizens Commission on the Future of Higher Education. He serves on the boards of the California Endowment and the Public Policy Institute of California; is a member of the board of advisors of the California Institute of the Arts; is director of several organizations including the National Center for Public Policy and Higher Education; the Committee on Public College and University Trusteeship and Governance; and Southern Callifornia Public Radio.
Mr. Williams was a member of the Regents of the University of California, the Los Angeles Annenberg Metropolitan Project, the President's Committee on the Arts and the Humanities, the Los Angeles Philharmoinc Association, and the Commission on the Academic Presidency. Mr. Williams served as energy coordinator for the City of Los Angeles during the 1973-74 energy crisis, is cochairman for the Public Commission on Los Angeles County Government, is a member of the State of California Commission on Tort Reform, and is a member of the SEC Advisory Committee on Corporate Disclosure.
Mr. Williams received his bachelor's degree from UCLA, graduating Phi Beta Kappa and earned his law degree from Harvard Law School.