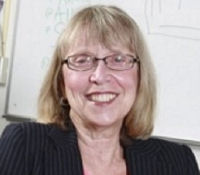 Esther Wojcicki
Founder of Palo Alto High School (CA) Media Arts Program and GlobalMoonshots.org; Former Chairwoman of CreativeCommons.org
For the past thirty-plus years, Esther Wojcicki has been teaching journalism and English at Palo Alto High School in California where she has been the driving force behind the development of its award-winning journalism program. With 400 students enrolled, the high school's journalism program is now the largest in the United States. She is coauthor of the best-selling education book Moonshots in Education: Launching Blended Learning in the Classroom (Pacific Research Institute, 2015). She also serves as chief learning officer for explore at Planet3.
In 2008, the National Scholastic Press Association recognized Ms. Wojcicki for inspiration and excellence in scholastic journalism advising. She has won other awards throughout the years including the 1990 Northern California Journalism Teacher of the Year and California State Teacher Credentialing Commission Teacher of the Year in 2002. In 2009, she won the Gold Key Award by Columbia University Scholastic Press for outstanding contributions to student journalism. She served on the University of California's Office of the President Curriculum Committee where she helped revise the beginning and advanced journalism curriculum for the state of California. From 2005 to 2006, Ms. Wojcicki worked as a Google educational consultant and helped design the Google Teacher Outreach program (ww.google.com/educators) and the Google Teacher Academy. She has also worked as a professional journalist and is currently writing for a variety of educational publications including Edutopia and eWEEK.
Ms. Wojcicki holds several degrees from the University of California, Berkley, including a BA degree in English and political science, a general secondary teaching credential, and a graduate degree from the Graduate School of Journalism. She also earned advanced degrees in French and French history from the Sorbonne, Paris, a secondary school administrative credential from San Jose State University, and an MA degree in educational technology from San Jose State University. She also holds an honorary doctorate degree from Palo Alto University (2014).
Ms. Wojcicki is the oldest of three children and was the first in her family to attend college. Her parents were Russian immigrants who came to New York City in the 1930s. Her family moved to Southern California after she was born. Her husband is Stanford University professor of physics Stanley Wojcicki. They have three daughters and nine grandchildren.