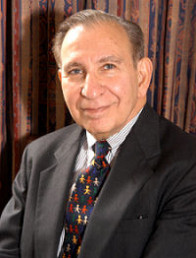 Dr. Samuel Halperin
American Youth Policy Forum, Senior Fellow
Samuel Halperin is founder and senior fellow of the American Youth Policy Forum. He has held leadership positions in academia, the federal government, foundations, and nonprofit organizations for over forty years. Dr. Halperin was president of the Institute for Educational Leadership; deputy assistant secretary at the U.S. Department of Health, Education, and Welfare (HEW); director of the U.S. Office of Education's Office of Congressional Relations and assistant U.S. commissioner of education for legislation; a congressional fellow of the American Political Science Association; and study director of youth and America's future at the William T. Grant Foundations' National Commission on Work, Family, and Citizenship.
Dr. Halperin has been awarded HEW's Superior Service Award twice, HEW's Distinguished Service Award, and the National Association of State Boards of Education Distinguished Service Award, twice the Distinguished Service Award of the National Association of Service and Conservation Corps, the Distinguished Lifetime Achievement Award of Jobs for the Future, the President's Medal of the George Washington University, the Harry S. Truman Award of the American Association of Community Colleges, and the Lewis Hine Award for Service to Children and Youth of the National Child Labor Committee.
He has taught at Wayne State, American, and Duke Universities, and Teachers College-Columbia University, and has lectured at many others. Dr. Halperin has served on various boards including the Peace Corps, Secretary of the Navy's Advisory Board on Education and Training, National School Volunteer Program, Jobs for the Future, and others. He is the author of A Guide for the Powerless and Those Who Don't Know Their Own Power. He holds a bachelor's degree, a master's degree, and a doctorate in political science from Washington University, St. Louis.