Pennsylvania's Keystones to Opportunity: Advancing Adolescent Literacy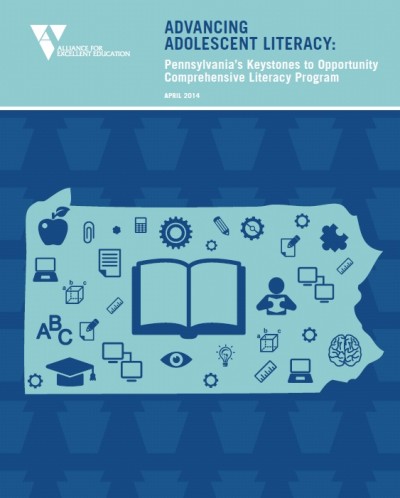 In a time when students must have reading and writing skills that compare with—and can compete with—their international peers, Pennsylvania has created a road map for improving literacy that all schools, districts, and states should observe closely. A new report from the Alliance for Excellent Education, Advancing Adolescent Literacy: Pennsylvania's Keystones to Opportunity Comprehensive Literacy Program, describes Pennsylvania's Striving Readers Comprehensive Literacy (SRCL) grant program. The report focuses on the design of instruction and interventions for students struggling to read and write in middle and high schools, including students with disabilities and English language learners, and it includes federal, state, and district policy recommendations.  
This federally-supported SRCL grant comes at a time when the demands on students graduating from high school are changing radically. In 2006, Catherine Snow, the Henry Lee Shattuck Professor of Education at the Harvard Graduate School of Education, wrote, "We all hold a stake in the literacy achievement of youth, and if we do not rise to meet this challenge today, we risk our cadre of struggling readers and writers facing a future of sharply diminishing opportunities."
Like most states, Pennsylvania is in the throes of a literacy crisis that seriously threatens the state's prosperity. A broad consensus exists among researchers and educational leaders that under-developed literacy skills is the number one reason why students are retained, assigned to special education, given long-term remedial services, and why they fail to graduate from high school.  Low levels of literacy achievement are pervasive in the United States. According to the National Assessment of Education Progress, commonly called the Nation's Report Card, more than 60 percent of eighth and twelfth graders read and write below the proficient level.
As one of only six states in 2012 to receive a federal Striving Readers Comprehensive Literacy (SRCL) grant, Pennsylvania awarded $36.7 million to fifty-three districts and two charter schools to improve literacy achievement for students with the greatest needs. The Pennsylvania SRCL grant program, called Keystones to Opportunity (KtO): Pennsylvania's Vision for Sustainable Growth in Reading Achievement, places literacy at the center of learning across the curriculum. It calls for integrating evidence-based literacy practices into the teaching of content through strategic reading and writing.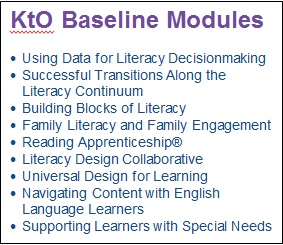 Achieving this goal depends on creating a strong, visible, and common culture of literacy practices. Yet despite what we know about the nature of the problems of struggling readers and the need to bring effective literacy strategies to life in content-area classrooms, what actually goes on in classrooms often remains removed from education administration and policy.
To build professional capacity, nine baseline content modules were created to build educators' knowledge of literacy development and to promote
persistent and pervasive practices in alignment with the state's English language arts standards. The ELA standards place a premium on defining literacy in practice-based, subject-specific ways. During the first year of KtO implementation, thousands of teachers and administrators attended baseline training to learn how to
design literacy instruction in relation to the English language arts (ELA) standards;
teach subject areas by integrating the use of literacy and reasoning practices within the content areas;
provide more and varied opportunities to read in class including the effective use of technology;
use formative assessment, which has been shown to produce substantial learning gains, particularly for low-achieving students; and
provide support for students practicing new literacy skills while developing their ability to direct and monitor their own learning.
In the ensuing years, Pennsylvania will design online learning paths to provide this foundational content to all of Pennsylvania's 500 school districts and 149 charter schools.
Positive results from the first year of KtO implementation are beginning to emerge. Educators gained knowledge and skills in connecting data with evidence-based literacy practices resulting in improved classroom-level literacy instruction and interventions for students. Achievement measures show improvements in listening comprehension, vocabulary, and sentence and passage comprehension. Principals are now better able to identify and support the use of effective literacy practices that mesh well with the states' move to rigorous standards and a new state teacher effectiveness system.
The nation is watching as Pennsylvania and the other five SRCL state grantees—Georgia, Louisiana, Montana, Nevada, and Texas—implement comprehensive birth-through-grade-twelve literacy initiatives. The problem of low levels of literacy among the nation's young adults is enormous, and the situation is becoming worse as literacy demands increase in the twenty-first century workplace. Fortunately, the problem is receiving national attention through the SRCL program. States and districts can begin to develop solutions to dramatically improve literacy outcomes for all students, particularly those with the greatest needs.
Mariana Haynes is a senior fellow at the Alliance and author of the new report, Advancing Adolescent Literacy: Pennsylvania's Keystones to Opportunity Comprehensive Literacy Program.
Categories:
Uncategorized