Parallel Gaps: Linking Unemployment and Education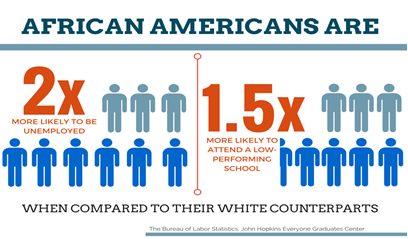 In late-March, a new analysis by the Economic Policy Institute was released and draws attention to an issue long discussed within the education community: the needs of minority students across the country that are not being met. In a society where students of color now make up more than half of all K-12 students, it is hard to turn a deaf ear to such resounding statistics.
Though the report draws our attention to the solid job growth that much of the country has experienced, the employment situation of African Americans is a call for alarm. The national unemployment rate for African Americans was 11% in the last quarter of 2014, a figure that is still higher than the 9.9% African American unemployment rate before the Great Recession. This is to say that more than four years since the Recession's start, African Americans still struggle to find a job in an economy that has improved overall; in fact, African Americans are two and half times more likely to be unemployed than whites.
There is a strong relationship between educational attainment and employment. According to a 2014 blog post from EPI, individuals who did not complete high school were almost twice as likely as those who received a diploma to be unemployed long term. The long-term unemployment rate further continues to decrease for those with some college and advanced degrees. Consequently, the observed national unemployment gaps are not surprising when gaps in educational outcomes by race are taken into account.
In 2014, the unemployment rate was highest for African Americans in Wisconsin (19.9%), Nevada (16.1%), and Michigan (15.8%). In these same states, the graduation rate gap between African American and white students is disconcerting. Consider Wisconsin. The Badger State had an overall graduation rate of 88% in 2013, which was higher than the national average, but, in 2013, only 66% of African American students obtained a high school diploma compared to 92% of white students. Both Michigan and Nevada's overall graduation rates fall below the national average, and both have large gaps between white and African American students. Only 61% of African American students graduate in Michigan, compared to 82% of white students. In Nevada, only 57% of African American students cross the stage, compared to 77% of white students.
A recent report from the Alliance for Excellent Education highlights the importance of turning around the lowest performing schools in the nation, which are disproportionately filled with students of color. In these low-performing schools, students of color often make up more than half of the student body. Ensuring that these schools are getting targeted resources and reforms is a critical step in providing adequate opportunities beyond the classroom for these underserved students, which will, in turn, prepare more students for college and career.
The education landscapes in Wisconsin, Michigan, and Nevada, as well as many other areas of the country, speak to the need to improve educational outcomes for students of color. Increasing the graduation rate for African American students is critical, and the potential economic gains from getting these students through high school is a strong justification for improving their educational experiences.
According to a sophisticated economic model that the Alliance for Excellent Education developed with support from State Farm®, if these three states had each increased their African American graduation rate to 90% in 2013, the potential increased benefits would have been an estimated 1,000 additional jobs and $121 million in increased earnings combined. Nationally, if the African American class of 2013 were to graduate at 90% it would result in 14,000 new jobs and $1.7 billion in increased earnings. Obtaining an education is powerful on many levels. It is an economic necessity to make sure that all students graduate equipped with the skills necessary to be successful in postsecondary education. These gaps and startling numbers should serve as a call to action to shift our thinking when it comes to educating at-risk youth. These gaps present an opportunity, the question remains as to whether the nation will stand up and achieve it.
To read more, see the recent article in the Alliance's Straight A's newsletter.
Note: The Alliance for Excellent Education estimates potential benefits of increasing the graduation rate by using an economic input-output model created by Economic Modeling Specialists, Inc.
Donique Reid is the Policy and Research Associate at the Alliance for Excellent Education.
Categories:
Uncategorized