Next Generation English Language Proficiency Assessments
The English language learner (ELL) subgroup is now the fastest growing segment of the U.S. K-12 student population. About one in five U.S. public school students, or nearly ten million, speak a language other than English at home. On June 19th, to talk about how to meet the needs of the growing number of English learners, the Alliance held a webinar on the design of English language proficiency (ELP) assessment systems. English learners must attain two key objectives in school—language proficiency in English and achievement in grade-level subject matter across the curriculum.
Two groups of states are working together to create ELP assessments based new ELP standards that correspond to a common set of college- and career-ready standards in English language arts and mathematics. Forty-six states and the District of Columbia have adopted the Common Core State Standards covering 90 percent of students in the U.S.  States are also poised to adopt the recently released Next-Generation Science Standards . The ELP assessments will target and measure key language competencies that need to be fostered and acquired to ensure English learners can meaningfully engage with grade-level subject matter content and disciplinary practices.
Here is a recap of what Robert Linquanti, of WestEd, and Gary Cook, of the Wisconsin Center for Education Research, stressed as key points central to the design of new ELP assessments.
First, they emphasized the direct relationship between students' level of English language proficiency and the level of academic performance as measured on state tests given in English. New ELP standards that reflect the Common Core's more rigorous expectations for language use can help connect language acquisition to content proficiency for English language learners.
Second, there is overlap in the kind of language activities students must be able to execute in different subject areas. In the diagram below, one can see, for example, that students must develop critical thinking skills in applying mathematics, language arts, and science. They must be able to construct viable arguments based on evidence and critique the reasoning of others. For math and English, students must be able to apply tools to solve problems and use technology and digital media strategically. In order to design the assessments, the consortia must determine the language practices that are needed both within and across content areas.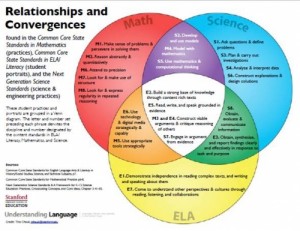 Third, a tool to help identify the explicit language practices that students need be able to understand and use in each content area is the English Language Proficiency Development (ELPD) Framework . This framework outlines the underlying English language tasks and uses found in the Common Core State Standards in ELA and mathematics and the Next Generation Science Standards.
To make good on state action to put new standards in place, an even greater challenge is to design new measures of language proficiency that can strengthen the way systems and teachers respond to the needs of English learners. In discussing implications of the design of ELP assessments, they offered some final points—
•    The federal government requires consortia member states to adopt a common definition of English learner to solve longstanding problems in the way ELL status is determined within and across states as defined under No Child Left Behind—the current Elementary and Secondary Education Act.  Linquanti and Cook are in the process of preparing guidance featuring a four-stage framework to guide policy toward a common ELL definition that will be released by the Council of Chief State School Officers this summer;
•    States must examine current teacher professional development policies, and teacher preparation and licensure, to ensure educator development matches up with what will be necessary to effectively teach ELLs using the new standards. Program design and credential requirements should specify requirements to ensure that teachers are competent in addressing both the content and academic language needs of ELLs; and
•    Evaluations often show the ELLs exiting strong language development programs outperform the general population. These findings suggest that all students can benefit from language-rich and culturally sensitive learning environments.
Other webinar panelists included representative for the two state ELP assessment consortia—
Timothy Boals, for the World-Class Instructional Design and Assessment (WIDA) Consortium and Kathleen Vanderwall, for the English Language Proficiency Assessment for the 21st Century (ELPA21) Consortium.
You can find the archived webinar and powerpoint presentations online here.
Mariana Haynes is a Senior Fellow at the Alliance for Excellent Education.
Categories:
Uncategorized