New Report on Student Internet Access at Home Shows Persisting Digital Divide
A long-awaited report on access to digital learning hit the newsstands last week with a familiar headline: a digital divide, known as the homework gap in education circles, persists, especially for students of color, students from low-income families, and students in rural areas.
Released by Institute of Education Sciences (IES), an arm of the National Center for Education Statistics, on April 4, Student Access to Digital Learning Resources Outside of the Classroom found large gaps in both connectivity and access depending on the racial and ethnic background, economic status, and location of a students' family.
The report was required under the Every Student Succeeds Act (ESSA) and was supposed to be released in June 2017. When the deadline was missed, the Alliance for Excellent Education joined the Consortium for School Networking (CoSN) and 18 other organizations in a coalition letter calling for it to be released as soon as possible, given the critical information it reveals about home access to high-speed broadband internet, especially for historically underserved students.
Lack of Access in Rural Areas
According to the report, students in suburban areas had more access to fixed broadband at home, 84 percent, than did students in rural areas, 71 percent. Unsurprisingly, students in remote rural areas had less access to fixed broadband, at 65 percent, than their peers in other geographic areas.
Adding the lens race and ethnicity amplifies even larger gaps in access for students in these rural areas. Higher numbers of students of color in rural areas had either no internet access or only dial-up access (41 percent of African American students and 26 percent of Latino students), compared to their white (13 percent) and Asian (11 percent) peers.
Breakdown by Race and Ethnicity
Regardless of locale, students of color and students from low-income families had less internet access than their peers. As demonstrated by the figure below, there's an 18-percentage-point gap in fixed broadband access between white students and their African American peers. A similar difference of 16 percentage points exists for Latino students and an even larger gap of 28 percentage points for American Indian/Alaska Native students when compared with their white peers.
(Click on the image for a larger version).
Economic Status Plays a Role
Income is also a critical factor as it relates to student access to the internet at home. The report shows that the higher the family income and parental education level, the more likely there will be computer and broadband access. (Click on the image for a larger version).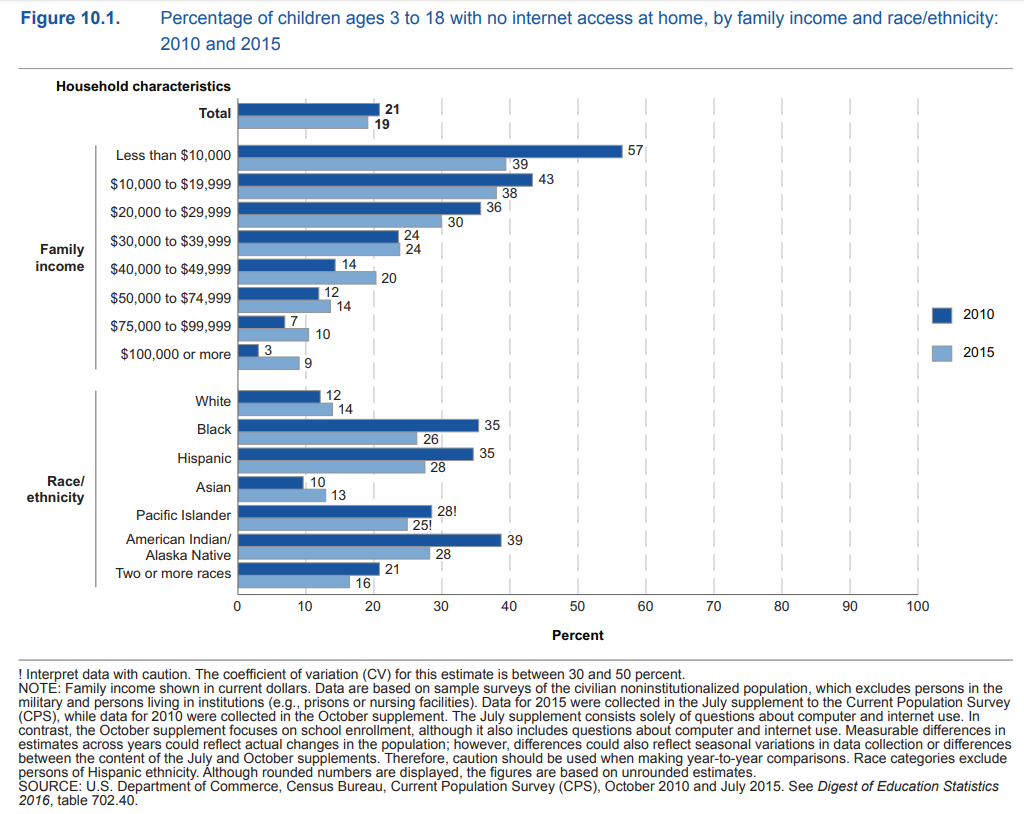 The report also highlights top reasons for lack of internet access in the home, with one of the most common reasons being that internet services are too expensive.
Efforts to Close the Digital Divide
This report demonstrates that more aggressive efforts are needed to close the digital divide but astoundingly, some programs that could help close the digital divide are in peril. For example, the Federal Communications Commission (FCC)'s voted in 2016 to expand the Lifeline program to allow it to be used for broadband access. Lifeline is a program that provides discounted telephone service for low-income households. But now the Lifeline program is being threatened by the new FCC leadership, and the broadband expansion has not been fully implemented.
Similarly, the FCC's E-rate program recently expanded to support Wi-Fi services in schools in addition to broadband. Now, more than 42,700 schools have accessed Wi-Fi services, and 83 percent of the E-Rate funds for Wi-Fi have gone to low-income schools. Hundreds of superintendents, school leaders, and advocates have expressed the importance of this program and the need for continued support from the FCC. While the program expansion has provided valuable connections to broadband for schools and libraries across the nation, education advocates remain concerned that efforts may be undertaken to weaken the program in the future.
Protecting these valuable programs while promoting other innovative efforts to expand broadband remain valuable priorities for improved education. Some districts are taking matters into their own hands with innovative efforts like transforming school buses into Wi-Fi hot spots for students to work on assignments outside of the school day.
These programs and creative solutions are more important now than ever, with technology transforming the learning experience both inside and outside of the classroom. Access is the key to success for our country's students, and to close the digital divide among students once and for all.
Download Student Access to Digital Learning Resources Outside of the Classroom at https://nces.ed.gov/pubsearch/pubsinfo.asp?pubid=2017098.
Chip Slaven is counsel to the president and senior advocacy advisor at the Alliance for Excellent Education.
Photo by Allison Shelley/The Verbatim Agency for American Education: Images of Teachers and Students in Action