New NAEP Assessment Tests Students' Technology and Engineering Skills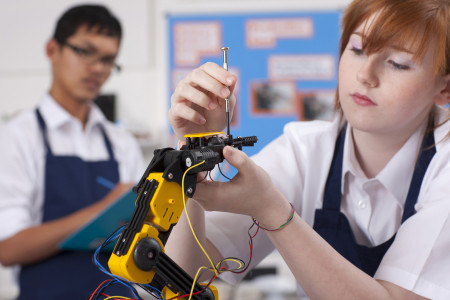 Results released from a new innovative assessment that tests students' knowledge and skills in technology and engineering reveal gaps in performance by gender, race/ethnicity, and opportunity.
In a video overview of the National Assessment of Educational Progress's (NAEP's) Technology and Engineering Literacy (TEL) assessment, NAEP highlighted key findings:
Girls performed better than boys by 3 points.
Students who engaged in out-of-school activities focused on design and systems, like a robotics club, or simply on building and fixing things on their own, had higher scores than those who did not.
Students scored higher if they had focused on technology and society during in-school learning.
Students who believed they could do various technology and engineering-related tasks scored better than those who did not.
Watch the short video segment below:
The results also showed gaps by race and ethnicity, with white and Asian students scoring higher than African American and Latino students, as shown in the chart below. There was also a gap between students with parents who graduated from college and those with parents who did not complete high school.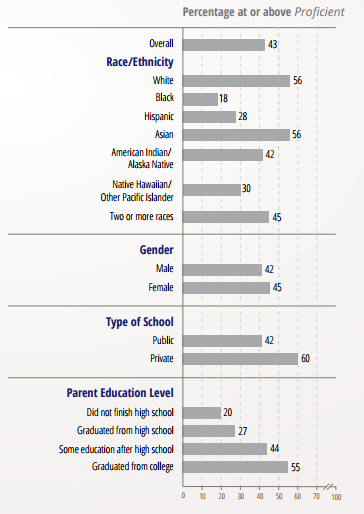 In an article on the findings, the Washington Post also notes that the results also show differences by socioeconomic status, with just 25 percent of students who receive free and reduced-price lunch scoring proficient, in comparison to 59 percent of more affluent students. The article also notes that English language learners did not fare well on the assessment, with only five percent scoring proficient.
So how does TEL work? According to NAEP, the assessment asks students to perform a variety of problem-solving tasks that are based on real-world scenarios. Sample tasks shared along with the results include designing a safe bike lane, exploring ways to handle growth in Chicago, and creating an ideal habitat for an iguana. Explore and try out the tasks: http://www.nationsreportcard.gov/tel_2014/#tasks/overview.
The assessment evaluates student knowledge in three content areas (pictured below). The findings aim to show how prepared students are for future careers or study of technology.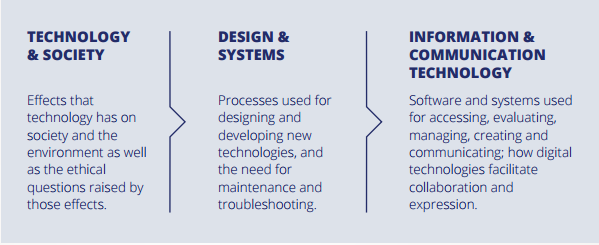 In a recent webinar hosted by the Alliance and the National Assessment Governing Board (NAGB), Bill Bushaw, executive director of NAGB and Peggy Carr, acting commissioner of National Center for Education Statistics (NCES), discussed the genesis of the assessment, more on how it works, and next steps for the findings and the future of TEL. The webinar is available to view: https://all4ed.org/webinar-event/may-5-2016/.