New Data Reveals Chronic Absenteeism Affects Over Six Million Children in U.S. Schools
Millions of children missed at least fifteen days of school in the 2013-14 school year, according to new data released by the U.S. Department of Education (ED). The first-ever national comprehensive data collected on issue of chronic absenteeism revealed that 6.5 million students, or 13 percent of all students and 18 percent of all high school students, from all over the country, are missing three weeks or more of school.
The findings are broken down by geography, race, ethnicity, gender, and more in interactive graphs on a new website released by ED alongside the data. The graph below, which shows the percentage of students chronically absent by race, shows that this issue affects students across ethnicities but at different rates, with American Indian students having the highest rates of chronic absenteeism.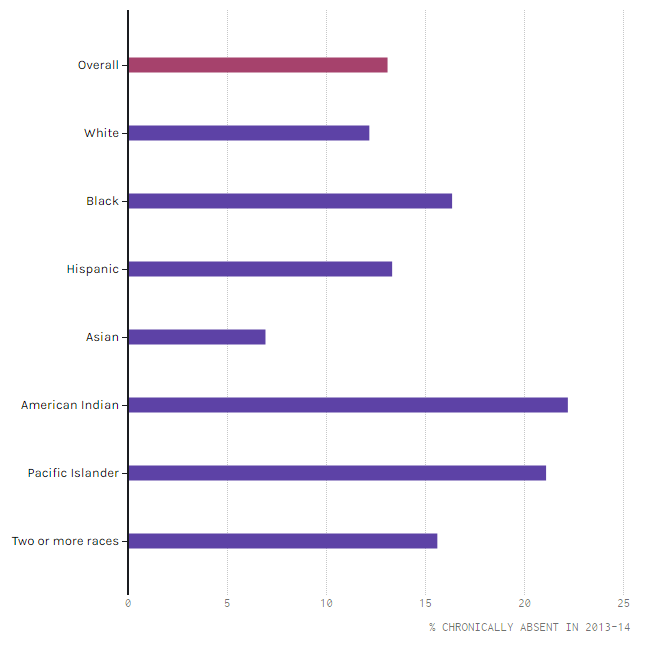 Below is a map from the website detailing the geographic distribution of chronically absent students.  Accompanying the map on the site is the finding that "nearly 500 school districts reported that 30 percent or more of their students missed at least three weeks of school in 2013-14."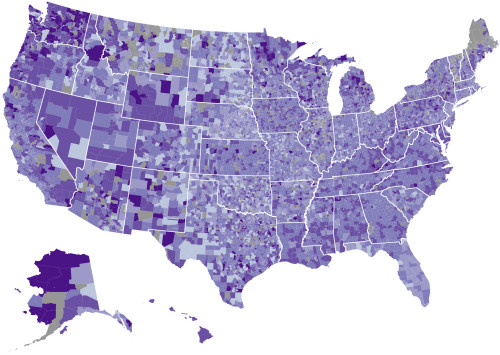 "Chronic absenteeism is a national problem," said U.S. Secretary of Education John King in a statement accompanying the release of the data. "Frequent absences from school can be devastating to a child's education. Missing school leads to low academic achievement and triggers drop outs. Millions of young people are missing opportunities in postsecondary education, good careers and a chance to experience the American dream."
To work toward combatting this issue, ED held a conference last week as part of Every Student, Every Day: A National Initiative to Address and Eliminate Chronic Absenteeism. This initiative, which involves several federal agencies and aims to support community action to address causes of and work to eliminate chronic absenteeism, especially for traditionally underserved students in the nation's low-performing schools. "By catalyzing nationwide action to implement and strengthen effective cross-sector early warning and response systems, which are proving integral to addressing chronic absenteeism, we can more effectively improve student achievement and other critical youth outcomes," said a press release about the conference and the initiative.
The new Every Student Succeeds Act (ESSA) also provides an opportunity to ensure that chronically absent students are not going unnoticed in the nation's schools. Under ESSA, states can use chronic absenteeism as an indicator of school quality or student success in their new multiple measures accountability and improvement systems.  As states consider which indicators to include, they should be "measureable," "actionable," and "meaningful." Chronic absenteeism meets all three criteria, as it is:
Measurable: Chronic absenteeism can be collected and reporter continuously over a period of time
Actionable: Individual schools can implement strategies and interventions to address chronic absenteeism
Meaningful: Improving chronic absenteeism will positively impact student outcomes, such as graduation rates or achievement.
Including chronic absenteeism as a measure in a school's accountability and improvement system will help to ensure that support and resources are provided to the school to address the issue. Learn more about accountability and school improvement under ESSA at: https://all4ed.org/essa/.
The data on chronic absenteeism was released as part of the most recent Civil Rights Data Collection, which includes information from all public schools and school districts across the country for the 2013-14 school year. The collection shined a light on inequities in several areas, including disparities in rates student discipline, and access to advanced courses and experienced teachers. ED highlighted key findings from each of these areas, as well as a statement from Secretary King on the collection. NPR also shared an overview of the data, pulling out 10 New Numbers on the civil rights problem in U.S. schools.