New Assessments: Questions to Ask

February 25, 2014 03:37 pm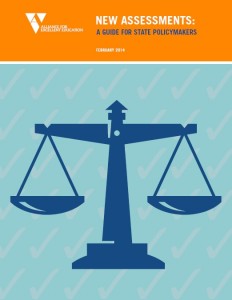 States face momentous decisions in the next few months. One of the most important is choosing a new assessment system to measure students' progress toward standards for college and career readiness. The decision they make will have enormous implications for student learning and teaching in the coming years.
Since 2010, all states have revised their standards or adopted new ones in the past few years, and most (forty-six and the District of Columbia) have adopted the Common Core State Standards. New standards call for new assessments, because the standards call for substantial shifts in instructional practice, and current tests are not designed to measure the new learning goals. But tests do more than just measure what students have learned—they also provide concrete examples of the kind of learning the standards spell out, and they signal to teachers and students what kinds of performances are expected.
States will have a number of options for new assessments. Most states are part of one of two consortia of states that are building new assessments specifically designed to measure progress on the CCSS: the Partnership for Assessment of Readiness for College and Careers (PARCC) and the Smarter Balanced Assessment Consortium. But other organizations are also creating new assessments, including ACT.
What factors should states consider? A new brief by the Alliance for Excellent Education suggests some questions to ask.
What do the assessments measure? To provide information on student performance against the standards, the assessments will have to measure the full range of the standards, not just those that are easiest to measure. The consortia assessments are building their assessments directly tied to the standards, and they are planning to incorporate innovative elements that tap a broad range of abilities, such as performance tasks that get at student learning that cannot be measured by multiple-choice questions.
How do the assessments help teachers? Assessments can help instruction by providing teachers with rich information on student strengths and areas needing additional help. Both consortia plan to develop tools teachers can use throughout the years to help them understand where students are during the course of the year so they can adjust instruction accordingly. The consortia are also building digital libraries of resources to help teachers.
How do the assessments help students and parents? Assessments can help student learning by making the expectations clear. PARCC and Smarter Balanced have already published a number of sample items and tasks, and they plan to release many items every year. In addition, the multi-state consortia can help parents by providing, for the first time, information on student performance that is comparable across states. Parents in rural Maryland will know how their children's performance compares with that of students in upstate New York.
How much do the assessments cost? The PARCC assessments are expected to cost $29.50 per pupil, about the median of what its member states currently pay for tests, while Smarter Balanced are expected to cost $22.50 per pupil ($27.50 if states buy the interim and formative assessments as well), less than what most of its states currently spend. The higher costs reflect the fact that these assessments will not be exclusively multiple-choice and will require human scoring, which is more expensive.
But while cost is an important consideration, states also need to look at the other side of the ledger and consider the benefits of the new assessments. Current state tests have not provided the kind of information students, parents, and teachers need. And the experience of high-performing nations shows that high-quality assessments can improve teaching and learning.
In making decisions about assessments, states should keep in mind that high quality matters.
Read the full report: New Assessments: A Guide for State Policymakers.
Robert Rothman is a senior fellow at the Alliance for Excellent Education.
Categories:
Uncategorized