New Alliance-CoSN Resources Highlight Lifeline's Impact on Closing the "Homework Gap"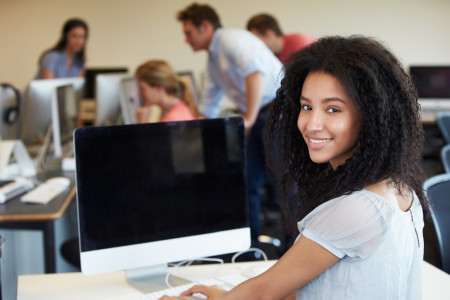 Approximately 70 percent of teachers assign work that requires students to access the internet after school hours, but nearly one-third of households do not have high-speed internet service, according to data from the Federal Communications Commission (FCC). This lack of service puts students living in these homes at a disadvantage, creating a widening "homework gap" that disproportionately impacts students from low-income families, according to two new resources from the Alliance for Excellent Education and the Consortium for School Networking (CoSN).
"High-quality broadband access at home is becoming the backbone of engaging, modern learning environments. Unfortunately, far too many students and their families do not have this connectivity and are falling behind," said Keith Krueger, CEO of CoSN. "The digital divide is too big and there is too much at stake for America's students if we do not tackle this challenge. It's an 'all hands on deck' effort, locally and nationally."
The new brief, "Advancing Digital Equity and Closing the Homework Gap: The Need to Connect Students at Home," examines the current state of home internet access and how inequities in access impact traditionally underserved students. A second Alliance-CoSN brief, "Advancing Digital Equity: An Update on the FCC's Lifeline Program," highlights recent changes to the Lifeline program and the potential threats these updates currently face.
According to the first brief, nearly 50 percent of students surveyed by the Hispanic Heritage Foundation said they could not complete a homework assignment because they did not have access to a computer or the internet. Meanwhile, 42 percent believe they received a lower grade because that lack of access limited their ability to complete their work. But finding affordable service presents the greatest barrier for improving students' out-of-school internet access, the brief says.
Fortunately, federal programs like Lifeline can make internet service more affordable. Lifeline provides a $9.25 discount on monthly telephone service for eligible low-income families. In March 2016, the FCC, which oversees Lifeline, expanded that discount to include high-speed internet service. The FCC's action also streamlined the process for clearing potential internet service providers for the program, creating a nationwide Lifeline Broadband Provider (LBP) designation, the briefs explain.
In February 2017, though, the new FCC chairman, Ajit Pai, reversed a decision made by his predecessor that had authorized nine companies to provide Lifeline services under the new LBP designation. Additionally, the National Association of Regulatory Utility Commissions has challenged the LBP process in court. Even though some of the Lifeline modernization efforts currently face challenges at the federal level, states can take several steps to expand high-speed internet access to low-income families, according to the Alliance-CoSN briefs.
Currently, state laws support only those Lifeline services that include voice and text offerings, but states can allow Lifeline service providers to offer "broadband-only" options too, the briefs say. Additionally, states can supplement the federal Lifeline discount by providing eligible families with a state-level subsidy as well to further offset the costs of internet service. Finally, states should collaborate to align their requirements for Lifeline service providers to make it easier for companies to join the program and offer low-cost services to qualified families.
"In an information-age economy, learning does not begin and end at the school door," said Bob Wise, Alliance president and former governor of West Virginia. "Teachers are increasingly turning to technology to deliver real-world content and ensure that students stay engaged with the learning process in school and at home. Rather than undercutting the program, the FCC should fully implement the modernization of Lifeline and ensure that all children have access to 'anytime, anywhere' learning."
Kristen Loschert is editorial director at the Alliance for Excellent Education.