Student Activism in the Era of Parkland and What It Means for Educators

October 24, 2018 09:45 am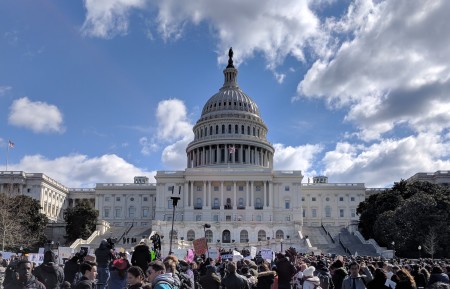 March for Our Lives. DREAMers. Black Lives Matter. Young people are lifting up their voices and demanding a seat at the table to discuss issues of immigration, gun violence, and inequality that permeate their lives. These are problems that students carry from their homes to their schools each day.
As an educator or school leader, student activism may lead to difficult questions. Should you support your students when they stand up for change? What if your beliefs differ from theirs, or you have trouble relating to their experiences? If you want to support them, what's an appropriate way to do so?
To answer to these questions, All4Ed spoke to Ben Kirshner, professor of the learning sciences and human development at the University of Colorado, Boulder and author of Youth Activism in an Era of Education Equality. As a guest on All4Ed's new podcast, Critical Window, Kirshner shared three key points to address student voice and navigate student activism.
Lead with Empathy
Handling student participation in protests and walkouts is a complex issue that is entwined with safety and liability concerns. But there are ways that adults in the school building can support students without losing facetime or harming the learning process, explains Kirshner.
"If students are feeling like there's an issue that really affects them and they care about it, it affects their daily lives, and a teacher is not showing any empathy with that, or, at least a willingness to listen and hear what that issue is and, maybe, show solidarity with their students, then, all the facetime in the world isn't going be helpful for that learning relationship," Kirshner says.
Leading with empathy is key.
"I think it's important that school leaders, teachers, faculty try to understand where students are coming from. They're not required to agree with them, in my view; but, if they show an effort to listen and take them seriously as people who are interpreting their world and have mature ideas about the world, then, I think that goes a long way."
Create an Infrastructure That Supports Student Voice
"One way to support student learning and voice is to think about how a student council, student advisory group could actually have some input into substantive issues that the school is facing," says Kirshner. This moves beyond the benefit of providing students with leadership opportunities and enables them to create change in their schools.
"Frankly… [that] will help [principals and superintendents] develop practices and policies that are really responsive to young people's lived experiences," Kirshner explains.
Make Learning Relevant to Students' Interests
"Think about how civic learning and voice and agency can be integrated into the academic curriculum," Kirshner posits.
What would that look like? Take English class as an example. If some of the goals of the class are for students to improve their reading ability, understand the difference between evidence and opinion, and learn to write or speak persuasively, then have students do their own research about issues that matter to them and develop policy proposals on what they've learned, Kirshner explains.
"You could call that participatory action research," he says. "From the perspective of a learning scientist, like myself, [this] is actually really consistent with what we know to be high-quality, deeper learning."
Listen to the full episode below.
Critical Window is a podcast from the Alliance for Excellent Education that explores the rapid changes happening in the body and the brain during adolescence and what these changes mean for educators, policymakers, and parents. 
Subscribe to Critical Window on Apple Music, Stitcher or wherever you find podcasts.