Nation's Report Card Results: Large Percentage of High School Seniors Struggle with Reading and Math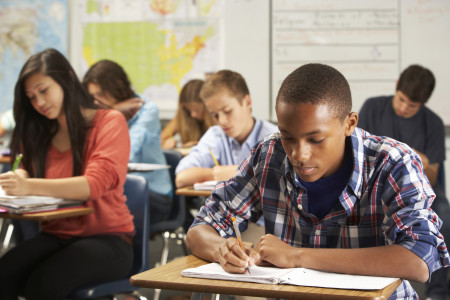 Results released yesterday from the latest National Assessment of Educational Progress (NAEP), also known as the Nation's Report Card, show there's still much work to be done to prepare students for success after high school. High school seniors scored one point lower in 2015 than 2013 in math, while the average reading score was not significantly different. The results also show that achievement gaps are still prevalent, with only 12 percent of Hispanic students and 7 percent of African American students scoring at or above proficient, in comparison to 32 percent of white students.
In a statement about the scores, Alliance president Gov. Bob Wise addressed these gaps and the implications for the education landscape.
"NAEP results show that education is still not a balanced equation for all students," Wise said. "And for traditionally underserved students, the numbers are only getting worse. These results come at a unique time when states have the opportunity to develop strong responses since the nation's new education law—the Every Student Succeeds Act—gives them more flexibility to identify low-performing students and develop meaningful interventions."
Under ESSA, states and districts are responsible for supporting and improving the quality of low-performing high schools. The new education law requires that states identify high schools with graduation rates at or below 67 percent, for comprehensive, locally-determined, evidence-based intervention. Watch the Federal Flash episode below for more information on high school provisions within ESSA, or visit all4ed.org/ESSA.
The results also come at a time when the nation's graduation rate is at an all-time high. "If there is any good news, it is that the high school graduation rate has improved," said Wise in his statement, "but more diplomas without adequate math and reading preparation is not a formula for success for students or the nation."
NPR Ed's coverage of the results focused on what the NAEP scores indicate about the college and career readiness levels of students. The article reports that research shows under 40 percent of students scored at college and career ready levels on NAEP, and yet the graduation rate was 82 percent in 2015. Andrew Ho, a measurement expert at the Harvard Graduate School of Education and member of NAEP's governing board, explains that one potential reason for the difference is that graduation requirements include more than reading and math, subjects like social studies, science, and the arts also come into play. "In other words, the diploma potentially captures achievements over time, rather than the ability to do well on a short, mostly multiple-choice test taken on a single day," the article says.
Ho also gives a less positive possible explanation for the difference, saying that graduation "is just a lower standard than college readiness." He explains that "If you get right down to it, the reading and math required by NAEP, the ACT, the SAT, colleges and careers is much greater than what high schools are saying is sufficient."
In reaction to the scores, U.S. Secretary of Education John King noted that the transitions to higher standards and other significant changes undertaken by schools in recent years must be considered.  "We know the results of those changes will not be seen overnight, so we need to be patient – but not passive – in continuing to pursue the goal of preparing all students for success after high school."
King also highlighted how the test provided insight into strategies for improvement.
"Indeed, the data show us some opportunities where we can make a difference," King said. "For example, 12th-graders who took math classes their senior year did significantly better on NAEP than those who did not, which indicates how important it is that schools continue to expand opportunities – particularly for historically underserved students – to take advanced coursework. It's important to continue to help all students meet and exceed these high standards – especially those learners who are the furthest behind."
To learn more about the results, visit: http://www.nationsreportcard.gov/reading_math_g12_2015/.
Categories:
Uncategorized