My High School Reimagined

December 16, 2015 04:47 pm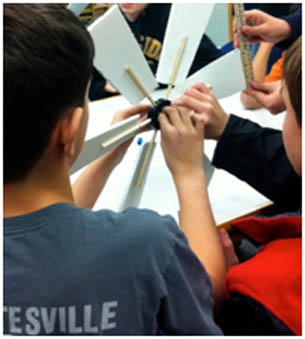 As I sit in my cubicle here at the Alliance, performing research about best practices to prepare students for college and a career, I can't help but think about my own high school experience. I come across educational practices every day that schools have implemented that produce results for student learning and I find myself wishing my high school had done the same.
Teachers, parents, policymakers, and even students agree that schools need to reimagine how students are taught. From my research, I strongly believe the implementation of project-based learning is a way to reignite student's passion for learning and reimagine how students are taught.
Project-based learning is "a teaching method in which students gain knowledge and skills by working for an extended period of time to investigate and respond to an engaging and complex question, problem, or challenge," according to the Buck Institute for Education (BIE), a nonprofit organization that supports the implementation of project-based learning in schools. But when I was in high school my school day looked significantly different than this. My classes were broken into seven rotating blocks. I spent forty-eight minutes in my precalculus class sitting in a desk with a teacher at the whiteboard solving for an unknown variable. Then I had five minutes to get to my desk in my forty-eight-minute government class to learn about how a bill becomes a law. After my government class I shuffled to my chemistry class where I learned how to balance chemical equations. After a couple of weeks, I took multiple-choice and short-answer tests in each class to gauge what I had learned. I was doing well in school, but throughout the day I often felt bored and questioned how what I was learning would apply to my future career and the "real world."
Through my research here at the Alliance, I have discovered that project-based learning rids students of this questioning and boredom. Project-based learning reimagines how students interact with class material, how they are evaluated, and better prepares students for postsecondary education and a career. Instead of shuffling between separate classes as I did, students in a project-based learning environment might spend multiple hours in a classroom with both a science and social studies teacher investigating, calculating, and preparing a report proposing a solution to a community problem, such as developing more city parks. Working with their science teacher, students apply hands-on STEM skills to research the best location for a park and then use technology to design the park and prepare a three-dimensional model. While they are designing the park, they might work with their social studies teacher learning how the city government works, even preparing a presentation for the city council about their proposal. These rubrics and student handouts published by BIE demonstrate how project-based learning can be integrated into the curriculum and classroom.
This model makes school more engaging for students, provides real-world relevance to what students learn, allows for the integration of technology, and connects students to the community. According to BIE, students understand concepts more deeply and remember what they learned longer after completing a project as opposed to a lecture and test. Project-based learning proves successful for students who have trouble learning in the traditional classroom as well, according to Jason Schwalm and Karen Smuck Tyleck in their paper Systemwide Implementation of Project-Based Learning. Students also learn to apply skills and knowledge to many new situations more easily. Learning through projects allows students to take initiative and responsibility, collaborate, solve problems, and manage their time more effectively, important skills to be successful in a twenty-first-century workforce.
Talladega County Schools, a school system in Alabama where 75 percent of students qualify for free or reduced-price lunch, implemented project-based learning in the county's schools in 2008 and has seen results. Prior to project-based learning, the school system had low test scores, a low graduation rate, and students losing interest in learning. After implementing this new teaching-and-learning approach, the graduation rate increased from 72 percent in 2007 to 90 percent in 2014, test scores increased, and "76 percent of students said that [project-based learning] and the addition of technology made school more interesting," according to an Alliance case study about the district. This makes me wonder what my high school could have looked like, what benefits would have occurred, and how different the Class of 2012 would have been if my school had offered project-based learning.
It has been four years since I attended a high school class, but my experience still mirrors that of students today. If my high school was modeled after project-based learning I wouldn't have found myself questioning the application of information or skills, and I wouldn't have lost interest in class. Project-based learning engages students with material like never before, prepares students for the twenty-first-century workforce, and once again gets students excited about learning.