Morning Announcements: Study says Common Core State Standards could be a big help to English learners in California

September 23, 2014 11:30 am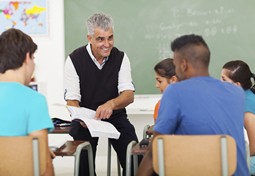 New data from the U.S. Department of Education shows there are more homeless students in the nation than ever before, and many are living completely on their own, without parents or guardians.  During the 2012-13 school year, 1,258,182 students enrolled in public school across the country were homeless, according to the data released Monday. US News & World Report
The rigorous new Common Core standards represent both a daunting challenge and a promising pathway that could help close the achievement gap for the growing number of American students who enter school knowing little or no English. The Hechinger Report
The politics of Common Core aren't nearly as important as what goes on between teachers, students, and curriculum in classrooms implementing these new sets of standards. Teachers and students play massive roles in the potential for effective outcomes via the new sets of standards. In the latest post from our Core of the Matters series, Gerry House, president of the Institute for Student Achievement (ISA), argues that there are conditions that need to be implemented at the policy, state, and district level if we are to see optimal results from the Common Core.
Pennsylvania is rethinking the use of time for students. The state is piloting a new program that will allow schools to offer "flexible instructional days," in which students won't have to attend school in person in order for the work to count towards instructional days. The Journal
While you're reading that, be sure to check out the Alliance's new report on how more effective and innovative uses of time can support increased and better learning opportunities for K-12 students.
The Louisiana Legislative Auditor released an independent report on the Common Core academic standards Monday in an attempt to provide unbiased information about the controversial education benchmarks. Common Core has divided Gov. Bobby Jindal and his handpicked Education Superintendent, John White. The Times Picayune
Lawmakers in Florida are asking officials to "not reverse course" on better preparing the state's students for the future after one group called on the Brevard School Board to outline practices and procedures allowing parents to "opt out" of state mandated exams for their children. Florida Today
In a first for the largest education award given to public schools nationwide, jurors decided to split the $1 million Broad Prize between two urban districts in Florida and Georgia, giving both the chance to improve achievement among disadvantaged students in the districts. Associated Press
Ask many student what subject they enjoy least, and there's a good chance they'll choose math. But as STEM skills, including math, become more important, efforts are underway to change math instruction and how students view math. eSchoolNews
Common Core Quest is a new app that guides students through quizzes, modeled on Smarter Balanced and PARCC-style questions, designed to test their mastery of the Common Core math and language standards. The Journal
Research shows students who take a gap year between high school and college do better once they get to school.  US News & World Report
More than two weeks into the school year, principals of some New York City's  most troubled schools say they still don't know how exactly the city plans to intervene and improve their struggling schools and programs, making it harder for them to turn around their schools this year. ChalkBeat NY
New York State Education Commissioner John King has rejected the request to employ fewer librarians in schools — in part because the New York City took too long to come up with an alternative plan to provide library services to students. ChalkBeat NY
Categories:
Uncategorized