Morning Announcements: Sec. Duncan speaks on major achievement gaps facing black and Latino students

November 07, 2014 11:30 am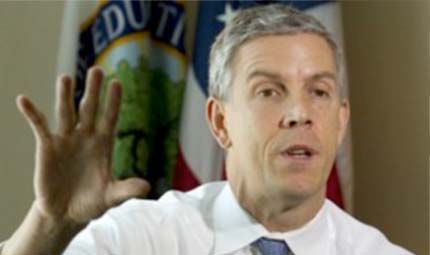 In the age of Common Core, getting the right answer to a math problem is only step one. The Common Core math standards say that it is just as important for students to understand the mathematical principles at work in a problem in turn giving students a deeper, most lasting understanding of the content that can transfer to the real world. The Hechinger Report
U.S. Secretary of Education Arne Duncan spoke to MPR News earlier this week about what the federal government can do anything about education issues such as Minnesota's achievement gap. Compared to neighboring states, Minnesota has the largest gap between the percentage of white and minority students who score proficient on state tests, according to the most recent federal data.
According to two new reports by the Center on Education Policy at George Washington University, district leaders in states belonging to one of the Common Core assessment consortia said is "too soon to tell" whether the consortia-developed assessments will be an improvement over their state's current assessments. The Journal
Louisiana Gov. Bobby Jindal has filed paperwork to officially join a group of Louisiana legislators who are suing state education officials over the implementation of the Common Core academic standards in primary and secondary schools. The Times Picayune
New York City education leaders ordered to overhaul struggling high schools like Boys and Girls High School in Brooklyn have limited options, as city regulations and the teachers' union contract can stop them from taking drastic steps to improve school quality. But one significant change they can make is to quietly adjust the school's student population by advising underachieving students to transfer out. Roughly 30 students have done so. Chalkbeat NY
School officials at Mankato Public Schools' in Mankato, MN say that in addition to making curriculum easier to access online, a new one-to-one digital learning initiative is helping the district's special education students gain more independence in the classroom. eSchoolNews
Arlington Public Schools leaders in Arlington, VA are considering an adjustment to school boundaries for eight elementary schools for the 2015-2016 school year after enrollment in some schools exceeded projections. The Washington Post
At Highlander Charter School in Rhode Island, several teachers said they are encouraged to think outside the box. They try new ways to incorporate technology, and try to find new efficiencies in familiar routines. They combine in-person instruction with computer-assisted lessons, something that is called blended learning. The Hechinger Report
With three incumbents reelected Tuesday, there will be just one newcomer to Montgomery County, MD's school board at swearing-in ceremonies next month: Jill Ortman-Fouse, an education advocate from Silver Spring, MD. The Washington Post
Voters in Loudoun County, VA overwhelmingly approved a measure that will allow the school system to sell bonds to finance the construction of the Advanced Technology Academy, according to preliminary results.
Categories:
Uncategorized