More on the Assessment Consortia Field Tests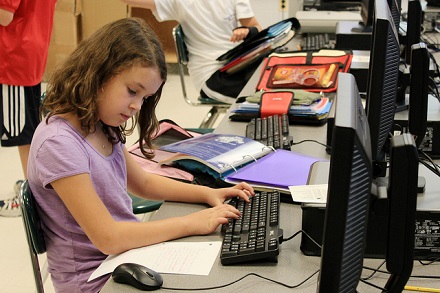 Read part 1 in our two-part series on answering your questions about the Common Core-aligned assessments field tests.
On March 20, the Alliance for Excellent Education hosted a webinar with leaders of the two consortia developing assessments to measure the Common Core State Standards: Jacqueline E. King, the director of higher education collaboration for the Smarter Balanced Assessment Consortium, and Jeff Nellhaus, the director of policy, research, and design for the Partnership for Assessment of Readiness for College and Careers (PARCC). The webinar, which took place as field tests for both consortia's assessments were getting under way, drew a great deal of interest. Hundreds of educators and policy makers signed up to watch it, and viewers submitted dozens of questions to the panelists.
Although King and Nellhaus answered many viewer questions, they could not get to all of them in the ninety-minute event. But they agreed to respond to many of the questions they couldn't get to at the time. Here are their answers.
From Alice: What structures are available for teachers to provide feedback about the field tests?
Nellhaus: PARCC administered surveys to test administrators, test coordinators, and technology coordinators.
King: States are managing the process of soliciting feedback so teachers interested in providing feedback should check with their state department of education or with their district test coordinator.
From Jennifer: Some concerns have been raised about threats to validity of end-of-year test scores because of field testing. How will this be mitigated?
Nellhaus: PARCC mitigated impact by including only a relative small number of students in sampled schools, so as to cause minimize impact of the field testing.
King: Since Smarter Balanced states vary considerably in the proportion of students participating in the field test, the best suggestion is to share this question with either their district test coordinator or state department of education.
From Brenda in CA: Some states have been allowed to make additions to the standards. Are these incorporated into the assessments?
Nellhaus and King: Not in the PARCC or Smarter Balanced assessments.
From Peggy in ID: If schools have to test 95 percent of students, what about parents who opt out?
Nellhaus and King: The 95 percent participation requirement is a federal requirement under the No Child Left Behind Act. It refers to criteria states must use in measuring annual yearly progress (AYP). Accordingly, this is an accountability policy issue that should be directed to state education agencies.
For King: Is SBAC still deciding about adaptive test scores? Has a decision been made about grade-level scores for students?
King: Beginning in 2014-15, the Smarter Balanced assessments will be computer-adaptive.  For the summative and interim comprehensive assessments, students will receive overall scores in English and math as well as results in the following "claim areas:"
English: reading, writing, listening, and research
Math: concepts and procedures, problem solving and modeling/data analysis, and communicating reasoning.
For Nelhaus: Will PARCC just give a range of questions that all students answer?
Nellhaus: PARCC assessments are "fixed-forms." While there will be multiple forms of each test, each form will conform to the same requirements for what is tested and the number and types of questions that are used.  PARCC specifications require that the range of questions on any given form be aligned with the grade level standards the form is designed to measure.  For example, the grade 4 math test will not include questions that are used to generate student scores that are based on standards from any other grade level other than grade 4.
From Twitter: What is the business model for our-years? Can states jump in or out from year to year? Will they have to sign up for multi-year subscriptions?
Nellhaus: PARCC is in the process of finalizing its business model.
King: Smarter Balanced will become a program within the Graduate School of Education at UCLA.  States will be negotiating MOUs with UCLA and an element of those MOUs under discussion is the provision regarding state exit from the consortium.
From Rajiv in OH: What results will be reported back to the US Department of Education, the states, school districts, and schools?
King and Nellhaus: Participation in either PARCC or Smarter Balanced will not result in any changes to state reporting requirements under the federal Elementary and Secondary Education Act.  In Smarter Balanced, states will retain control of all student testing data and will manage reporting to districts, schools and students/parents.
From Bren in KY: In what languages will the tests be available?
Nellhaus: In PARCC, Spanish and other languages as requested.
King: In Smarter Balanced, online glossaries are available for the math assessment in 10 languages (Arabic, Cantonese, Filipino, Korean, Mandarin, Punjabi, Russian, Spanish, Ukrainian, and Vietnamese) and several dialects. Full (stacked) translation in Spanish also is offered for the math assessment. Listening passages and math items also will be available in American Sign Language via videos of human signers.
From Jay in CA: Is the intent for both consortia to have the summative assessments generate bell-curve results similar to the SAT and ACT?
King and Nellhaus: No. PARCC and Smarter Balanced are criterion-referenced assessments.  There is no attempt to develop assessments so they generate results that fall on a bell curve.
From Julie in IL: What plans are in place to ensure colleges will actually use the college-ready cut scores?
Nellhaus: PARCC has been actively engaging state university and college systems heads in each of its member states to use the results of PARCC assessments for course placement purposes. PARCC K-12 and Higher Education Leaders have already adopted a College- and Career-Ready Determination policy, which sets out criteria for identifying the minimum score on particular PARCC high school assessments students must attain in order to earn a CCR Determination. PARCC is now working with K-12 and higher education leaders to identify and resolve implementation issues.
King: Smarter Balanced has worked actively with colleges and universities through higher education leads in each member state. Higher education and K–12 leads worked together to develop a College Content-readiness Policy that was approved by member states last spring. This policy, along with Achievement Level Descriptors also approved last spring, will inform the setting of achievement levels this fall. As states look ahead to the first operational administration of the summative assessment in Spring 2015, higher education leads are working with colleges and universities to enact the policy and administrative changes necessary to recognize and use Smarter Balanced Grade 11 scores as evidence of student readiness for credit-bearing courses.
Learn more by watching the full archived video of our recent webinar, Getting Ready for the Assessment Consortia Field Test.
Robert Rothman is a senior fellow at the Alliance for Excellent Education.
Categories:
Uncategorized