More cops, safer schools?

January 22, 2013 05:41 pm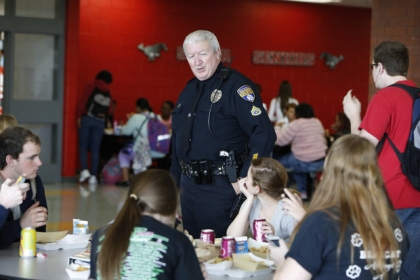 Last week, President Obama took unprecedented action by signing twenty-three executive orders in a plan to curb gun violence. One of those executive orders calls for the Administration to "provide incentives for schools to hire school resource officers." While some feel the idea of having more school resource officers (SROs) in schools to protect our children is a sound idea, others see unintended consequences with this this incentive.
The National Juvenile Justice Network( NJJN) released a statement in response to the incentive to put more cops in schools, outlining some of their concerns for those unintended consequences. The statement cites research that shows SROs have limited impact on school violence and lead to more referrals of youth to court for minor infractions that can lead youth on a path to poor academic performance. Although against any increase in SROs in schools, NJJN's statement provides a list of recommendations for the Department of Justice to require in their effort to hire more SROs:
Any new SROs hired under the President's proposal should have training on child and adolescent development and how to interact with children and teens.
SROs should also receive specialized training in youth development, working with youth with disabilities, de-escalating potentially violent situations, and recognizing and assisting youth with mental health needs, including trauma.
School officials and SROs should clarify their roles and responsibilities through a formal memorandum of understanding that covers the broad spectrum of inappropriate youth behavior, with specific attention to what types of behavior truly necessitate a court referral. It should also be clear how SROs will communicate with school staff and administrators during an incident that threatens the safety of students and how to determine who is in charge during a crisis.
Data on police activity and court referrals — broken down by race and ethnicity of students involved — should be collected and reported to state and local governments.
School districts and local juvenile justice systems should be required to work together to minimize the use of police in student discipline, and the number of students suspended or expelled from school, especially for minor infractions.
What are your thoughts? Do you agree with increasing SROs in schools? Do you believe SROs cause school climates that are not positive learning spaces for youth to excel? Do you know of schools that are doing a great job of implementing prevention programs that lower rates of harassment, bullying, suicide, and other forms of violence in schools?
Martens Roc is a policy and advocacy associate at the Alliance for Excellent Education. 
Categories:
Uncategorized