Meeting of the National Adolescent Literacy Council
On April 10, the National Adolescent Literacy Coalition brought together more than sixty educators, researchers, and policymakers to learn about advancing literacy in an era of increased demands for a highly literate, twenty-first century citizenry. What became clear in a series of presentations was that scaling up consistent, evidence-based literacy practices as part of secondary-level coursework continues to be a complex challenge.  
Beginning in the 1980s, reports such as A Nation at Risk documented the links between education, reading and writing skills, and the economy, and urged action to greatly accelerate the pace of literacy improvement. Despite these early warnings, studies show a steady downward trend across grades in the complexity of reading texts since the 1960s and limited opportunities for extensive writing as part of coursework. Dr. Brett Miller, Program Director of the Reading, Writing, and Related Learning Disabilities Research Program in the Child Development and Behavior branch of the Eunice Kennedy Shriver National Institute of Child Health and Human Development, shared findings from a 20ll study of in-class writing assignments. Teachers were asked about the number and length of writing assignments in different subject areas. Over a nine-week period, assignments of three or more pages only occurred once in English and were rare in science, social studies, or history.  On the 2011 National Assessment of Educational Progress writing assessment, only 27 percent of U.S. students in eighth and twelfth grades scored at or above proficient.
To reverse these trends, states have taken a bold step to adopt the English language arts (ELA) Common Core State Standards that lay out a vision of what is means to be a literate person in the twenty-first century. Although the standards do not define how teachers should teach, Miller noted that extensive evidence has accumulated over the years that point to specific strategies teachers can use to promote reading and writing proficiency among all their students. Three Alliance reports—Reading Next, Writing Next, and Reading to Write— identify a range of  strategies that have been found to be effective in improving adolescent reading and writing skills.
Yet, despite what we know, there continues to be an enormous breach between research and practice. Dr. Claudia Gentile from Mathematica Policy Research highlighted how protocols used to observe and assess teachers' literacy instruction vary widely in how teachers are rated and in the quality of feedback they provide to improve practice. The lack of coordination in how teachers integrate reading and writing into high school coursework is well documented. Gina Briancarosa and Catherine Snow, authors of Reading Next, write, "Often in today's schools one teacher has no idea what another is teaching; this is particularly true in high schools. The vision for an effective literacy program recognizes that creating fluent and proficient readers and writers is a very complex task and requires that teachers coordinate their instruction to reinforce important strategies and concepts."
The good news is that as a consequence of the ELA standards, new instructional designs are emerging that connect reading and writing and help translate research to practice. One example of a powerful approach developed by a national community of educators is the Literacy Design Collaborative (LDC). This educator network uses a common framework to design tasks within core subjects that integrate reading and writing elements. The template includes evidence-based strategies, explicit instruction and modeling of task requirements, opportunities for feedback and revision, and clear guidelines for evaluating written products.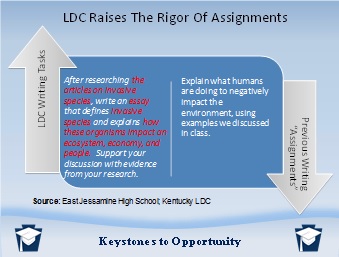 The use of the LDC framework for improving student's literacy skills within a subject area is also a main component of Pennsylvania's comprehensive literacy program designed to increase educator's knowledge and their use of evidence-based literacy practices statewide. Presenters Cindy Anderson and Barbara Smith from Lancaster-Lebanon Intermediate Unit 13, a regional service agency in Pennsylvania, described Pennsylvania's Keystones to Opportunity initiative. This comprehensive birth-through-grade-twelve literacy initiative, funded through the federal Striving Readers Comprehensive Literacy grant program, serves 200 million prekindergarten-to- grade-twelve students in 500 school districts.
As part of their comprehensive literacy plan, Pennsylvania identified an optimal mix of literacy practices that includes the LDC framework. The goal is to promote consistent literacy instruction along with shared responsibility among teachers for integrating reading and writing into content learning and for raising the rigor of assignments.
Smith noted, "What predicts performance is what students are actually doing—not what the curriculum says they are supposed to do or even what the teacher thinks he or she is asking students to do." The LDC task requires students to produce a culminating essay. Students are guided through a sequence of activities in which they are asked to acquire content knowledge through reading, construct an argument backed by textual evidence, and respond to feedback from teachers and peers. The task builds upon the learner's background knowledge, provides repeated practice and support for targeted reading and writing skills, and serves as formative assessment. Teachers and students use feedback on the LDC tasks to identify what learners need to do next to improve performance and what teachers need to do to improve instruction.
Key takeaways from the NALC meeting include:
Students must be immersed in literacy within the academic disciplines with extensive reading and writing daily;
Instruction in writing should be taught both independently and together with reading with a focus on critical thinking;
Strategies and skills of reading and writing must be taught explicitly and instruction must be scaffolded—that is, modeled and shared until students can apply new skills and strategies independently;
Infusion of digital technology and Universal Design of Learning can provide multiple pathways to express and represent information;
Targeting the needs of struggling readers and writers requires a culture of assessment use whereby educators work collaboratively to identify the learning gaps of struggling students.
Comprehensive literacy plans should place a premium on developing high-power professional learning systems to build educator capacity to advance students' speaking, listening, reading, and writing competencies in all content areas.
Mariana Haynes is a senior fellow at the Alliance for Excellent Education.