Linked Learning: The Next Generation High School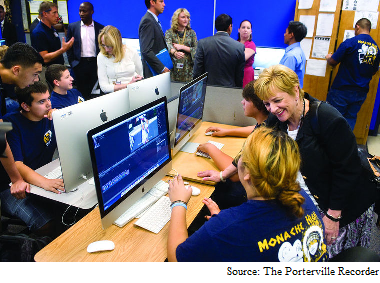 Last fall the Alliance for Excellent Education and several federal policymakers had the good fortune to visit with students, staff, and community members at Monache High School and Harmony Magnet Academy in Porterville, California. Both schools, through the leadership of Porterville Unified School District's superintendent, Dr. John Snavely, are implementing the Linked Learning approach to prepare students equally for college and a career upon high school graduation. Linked Learning has fundamentally transformed the way the City of Porterville and the surrounding region do business, and the results are compelling. So compelling that a number of districts in Tulare County and neighboring Kings County have joined together to implement Linked Learning broadly across the region. As Congress works to reauthorize the Elementary and Secondary Education Act, it would be wise for it to take a few lessons from Porterville and other districts across California that are implementing Linked Learning.
Porterville Unified began implementing the Linked Learning approach in 2009 and now more than 30 percent of students, 73 percent of which are Latino and 71 percent low-income, are enrolled in a Linked Learning pathway focused on a career theme. These programs of study—such as environmental science, performing arts, engineering, and multimedia technology—are grounded in four core components: 1. college-preparatory academics focused on real-world applications, 2. career-based learning in the classroom, 3. work-based learning in professional settings, and 4. integrated student supports. As seen in the clip below, Linked Learning has lit a fire in the Porterville community that has brought together all sectors including city government, business and industry, and the local colleges and universities to engage students in their learning and to empower and propel them into a postsecondary experience or career of their choosing. The outcomes they are seeing through this approach are noteworthy.
Students enrolled in Linked Learning pathways in Porterville are outperforming their non-Linked Learning peers on several measures of achievement: they are graduating from high school at higher rates (97 percent versus 80 percent), performing better on state assessments (62 percent proficient and advanced in English Language Arts versus 36 percent), and completing college-ready coursework recognized by the state university system at higher rates than their peers (31 percent versus 20 percent). Research shows that these are the kind of results that matter for students to successfully transition into postsecondary education.
As we stand on the precipice of the ESEA reauthorization, transformative efforts like Linked Learning should be considered among lawmakers to ensure that all students, particularly those that are traditionally underserved, do not go overlooked. If we are serious about reaching the goal of college and career readiness for all, then our accountability system should reflect that goal. Indicators that measure rates of college enrollment, remediation, persistence, and completion, should be required in state accountability systems and reported for each student group. In addition, ESEA should encourage states to incorporate indicators that integrate preparation for postsecondary education and the workforce, including performance in coursework sequences that integrate college-preparatory academics, work-based learning, and career-based learning in the classroom. Additionally, states should be held accountable for tracking and accurately reporting high school graduation rates by subgroup and taking the necessary steps to implement turnaround strategies for schools that fail to meet annual targets.
Senators Tim Kaine (D-VA), Rob Portman (R-OH), and Tammy Baldwin (D-WI) recently introduced bipartisan legislation, the Career Ready Act, to promote the expansion of college- and career-ready indicators within ESEA. The Alliance supports this legislation and we encourage others to do so as well.
Finally, in order to replicate good practice and encourage innovation within high schools, Congress should invest more into high schools, not less as proposed by the Student Success Act (HR 5) and Chairman Lamar Alexander's ESEA reauthorization proposal. These two proposals eliminate funding for the dropout prevention program that provided nearly $50 million a year to support low performing high schools.
President Obama's fiscal year 2016 budget request takes a different approach by proposing $125 million for a  competitive grant called "Next Generation High Schools" that will provide competitive grants to districts to support approaches like Linked Learning among the STEM fields. Building on this proposal, Senator Tammy Baldwin has introduced the Next Generation High School Act. This bill should be incorporated into ESEA reauthorization to ensure that high schools do not resemble the traditions of yesteryear. Instead, they should be rigorous, engaging, and globally relevant so that a student educated in Porterville can be on par with a student educated in Singapore. Congress should reject proposals to eliminate investments in high schools and incorporate the Next Generation High School Act into ESEA reauthorization.
As the voice of high school transformation and policy for well over a decade, the Alliance will continue to work to provide every student with a world-class education that is empowering, engaging, and equitable. Both Linked Learning and fair federal policies can accomplish these goals.
To learn more about the Linked Learning's impact on students in the state of California, visit the link: https://all4ed.org/videos/linked-learning-preparing/
Monica Almond is a policy and advocacy associate at the Alliance for Excellent Education.