Linked Learning Comes to Washington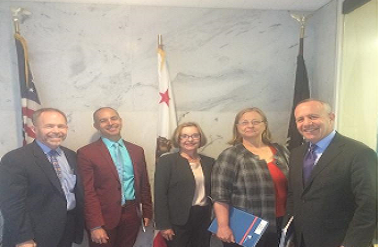 On May 14, the Alliance for Excellent Education was honored to host an amazing delegation of Linked Learning practitioners to meet with federal policy makers in Washington, D.C. The purpose of the trip was two-fold: First, we wanted to educate policy makers on the power and promise of Linked Learning – an approach to high school reform implemented across California that combines college-focused academics, work-based learning, and integrated student supports. The second purpose of the trip was to have the lessons learned from Linked Learning inform the reauthorization of the Elementary and Secondary Education Act (ESEA), currently pending before Congress. The Alliance sees Linked Learning as a sterling example of high school reform 2.0.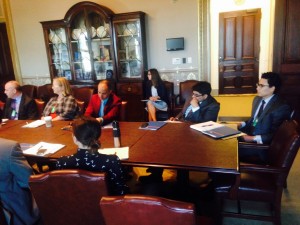 We had a packed day meeting with the offices of many of the most influential education policy makers in Washington. Among them: the offices of the Rep. John Boehner (R-OH), Speaker of the House of Representatives; Rep. Kevin McCarthy (R-CA), House Majority Leader; Sen. Lamar Alexander (R-TN), Chairman of the Senate Committee on Health, Education, Labor and Pensions; Senator Patty Murray (D-WA), Ranking Member of the HELP Committee; Rep. John Kline (R-MN), Chairman of the House Committee on Education and the Workforce; and Rep. Bobby Scott (D-VA), Ranking Member of the House Committee on Education and the Workforce.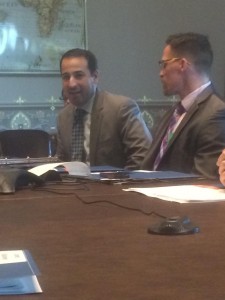 We also met with Roberto Rodriguez, President Obama's education advisor, as well as other staff from the White House and Department of Education. We also conducted a briefing for the Senate Caucus on Career and Technical Education, co-chaired by Senator Tammy Baldwin (D-WI), Senator Tim Kaine (D-VA),  and Senator Johnny Isakson (R-GA). Finally, we conducted a webinar highlighting the role of Linked Learning in providing a pathway to postsecondary education.
In addition to describing the practice of this powerful approach to high school reform, we advocated for key federal policies to be incorporated into the reauthorization of ESEA in order to support Linked Learning.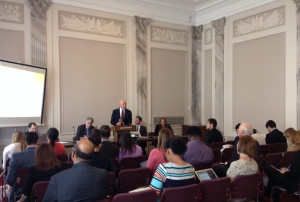 For example, we know that traditional low-quality standardized tests do a poor job of measuring critical thinking, problem solving, and other important skills and competencies. Therefore, we urged federal policy makers to allow statewide summative assessments to be delivered, at least in part, in the form of portfolios, projects, and extended performance tasks. The Alliance advocated for this provision and it was included in the Senate's bipartisan proposal to reauthorize ESEA (Every Child Achieves Act, S. 1177). Unfortunately, it was not included in the House Republican ESEA reauthorization bill (Student Success Act, H.R. 5), though it was included in the House Democratic ESEA proposal.
In addition, we asked federal policy makers to encourage states to incorporate an integrated measure of college- and career-readiness into the statewide accountability system required under ESEA, an important step that California has adopted under its new accountability system. This is important because education accountability systems should promote the recognized goal of K-12 education: preparation for postsecondary education and the workforce. The House Republican ESEA reauthorization bill (Student Success Act, H.R. 5) makes no mention of such an integrated indicator in the accountability system. The Senate's bipartisan ESEA reauthorization bill (Every Child Achieves Act, S. 1177) allows for an indicator of preparation for postsecondary education or the workforce.
The Alliance appreciates that the Senate bill's language promotes the idea of preparation for the world beyond high school; however, we are concerned that the policy of preparing students for college or career could promote tracking students into either a "college" path or a "career" path that may limit their opportunities rather than expand them. The magic of Linked Learning is that it prepares students for both.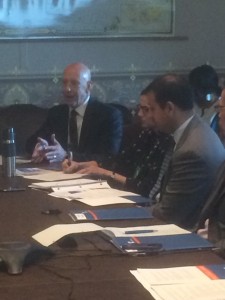 When students graduate with an experience in Linked Learning, they are prepared for postsecondary education and the workforce and have the ability to choose for themselves what their next steps should be after high school. We want ESEA to encourage state accountability systems to reflect this critical goal.
Another way in which federal education policy can support Linked Learning is by helping to fund it. Senator Darrell Steinberg, former President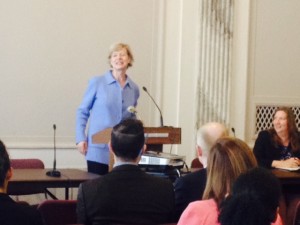 pro Tempore of the California State Senate and Board Chairman of the Linked Learning Alliance,  was quick to point out that the California Career Pathways Trust provided $250 million in its first year, however the requests from consortia exceeded that amount by nearly three times.
If the federal government would share in this investment strategy, we would be able to support the success of far more students and schools. One way for this to be done is through the Next Generation High Schools Act (S. 696), introduced by Senators Tammy Baldwin (D-WI) and Tim Kaine (D-VA), legislation that would support approaches like Linked Learning by funding partnerships among districts, institutions of higher education, and employers to transform the high school experience. The goal is for students to graduate from high school with credit toward a postsecondary degree or to earn an industry-based credential, and for students to have exposure to the world of work.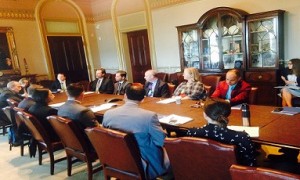 This would happen by implementing pathways that integrate rigorous academics, work-based learning, and integrated student supports. By centering high school around industry themes, what happens in the classroom becomes more engaging for students and more relevant to employers. This is the magic of Linked Learning and it needs to be reflected in, and supported by, federal education policy.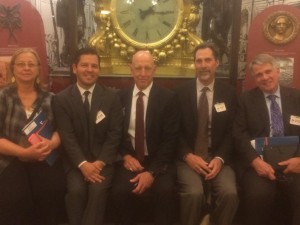 Finally, the Alliance believes that we must ensure that all students have access to opportunities such as those provided by Linked Learning. This means that we need to focus attention on the lowest performing high schools, and support their efforts to improve. The Alliance recently issued a report showing that there are 1,235 high schools across the country that have graduation rates at or below 67 percent – meaning that one-third of students (or more) do not graduate on time, if at all. Federal education policy needs to ensure that these schools are identified for support in order to be eligible to receive federal school improvement funding. Neither the House Republican ESEA bill, nor the Senate bipartisan bill, make this commitment to the nation's high schools. If the nation is going to prepare all kids for the 21st century economy, these schools must become a priority.
The Alliance would like to thank the incredible group of Linked Learning leaders for making the trip to Washington. You are leading the way for the nation's high schools, changing the course of students' lives, and we are privileged to partner with you in bringing the lessons of Linked Learning to Capitol Hill.
Phillip Lovell is Vice President for Policy and Advocacy for Comprehensive School Reform at the Alliance for Excellent Education.
Categories:
Uncategorized