Lifeline Modernization Passes, Expanding Broadband Access for Low-Income Families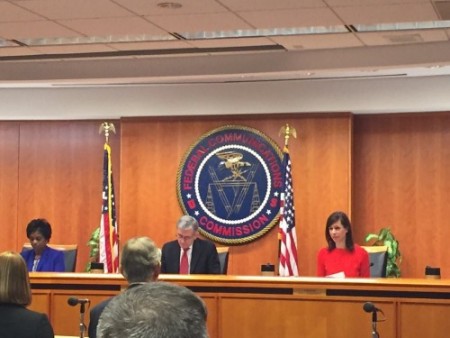 Low-income families will soon have the opportunity to receive affordable internet access through the expanded Lifeline program. Yesterday, the Federal Communications Commission (FCC) voted to modernize the program to include broadband service. Previously, Lifeline provided discounted monthly telephone service to eligible low-income households. Learn more about the program and background on the path to modernization at all4ed.org/Lifeline.
The Alliance supported the modernization as a means to expand learning opportunities for students. With access to internet at home, students can complete homework assignments and explore college and career opportunities. Providing access for more students is another step towards achieving digital equity and ensuring all students have the means to engage in learning outside of the classroom.
Alliance president Bob Wise likened lack of internet access to trying to get around using outdated transportation methods, saying: "Trying to navigate today's complex world with telephone service but no internet access is like using a horse and buggy on the interstate." Wise went on to explain the importance of the vote to help close gaps and enable Americans to access resources that are now available online. Read his full statement.
Twitter was buzzing with updates and highlights from the meeting, including input from FCC Commissioners and the Chairman:
#Lifeline modernization will bring communities closer together by providing a bridge for low-income Americans to access #broadband.

— Mignon Clyburn (@MClyburnFCC) March 31, 2016
#Broadband at home for students matters. We can make more students digital creators rather than just digital consumers. #HomeworkGap — Jessica Rosenworcel (@JRosenworcel) March 31, 2016
Thanks Commissioner @MClyburnFCC for your hard work on #Lifeline to provide a pathway out of poverty for low-income consumers.

— Tom Wheeler (@TomWheelerFCC) March 31, 2016
The FCC highlighted key information in the Lifeline order in a press release announcing the results of the vote, including that the order:
Provides support for robust broadband
Ensures that Lifeline subscribers receive services meeting 21st Century needs
Unlocks the Lifeline marketplace to encourage participation by broadband providers, increasing availability and consumer choice
Builds on 2012 reforms to close remaining vulnerabilities to waste, fraud and abuse
Establishes budget mechanism to minimize impact on ratepayers
More details on each element can be found in the release.
As the FCC implements the new regulation, the Alliance will share additional information and resources on how to help students and families take advantage of this important opportunity. This week's episode of Federal Flash explains a bit more about what the modernized program will look like and examines what the decision means for schools, school districts, and low-income families. Watch below: