Leveraging Linguistic Diversity: Lessons from International Schools

December 09, 2013 11:35 am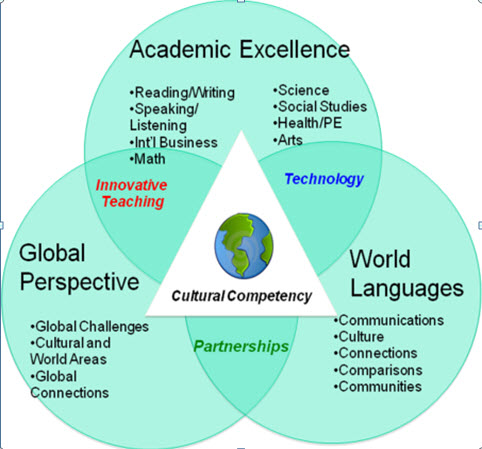 On November 7, the Alliance held a webinar to showcase Seattle Public Schools (SPS) international education K-12 pipeline featured in the Alliance report, Embracing Linguistic Diversity: The Role of Teacher Leaders in Building Seattle's Pipeline of International Schools. Seattle educators Karen Kodama, International Education Administrator, and Noah Zeichner, National Board Certified Teacher at Chief Sealth International High School, described how international schools cultivate a schoolwide focus on bilingualism and global competency as part of a rigorous program of studies.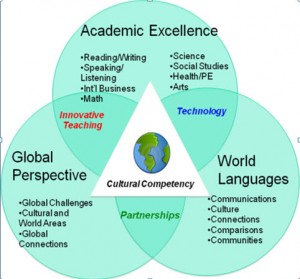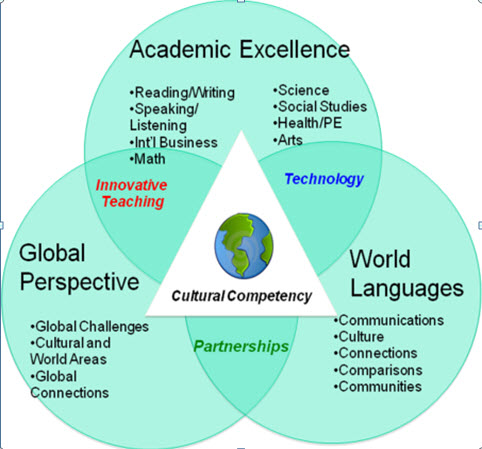 Other guests—Brandon Wiley, Executive Director of the Asia Society's International Studies Schools Network, and Lisa Clarke, 2013 Teacher Ambassador with the Office of the Secretary, U.S. Department of Education—discussed how international best practice can inform new schooling designs that put students at the center of the learning process and recognize their inherent drive to learn. Schools that leverage students' language and cultural assets and recognize their innate capacity to master challenging content and high-level skills outperform traditional schools, which too often tend to underserve language-minority students.
If you missed the webinar, you can watch the archived video. Below is a recap of discussion.More than 60 percent of the students in the Seattle's international schools are low-income, and one-third come from homes where a language other than English is spoken. English language learners are the fastest growing segment of the U.S. K-12 student population. For specific state and county data on the concentration of language minority speakers see a new online resource launched by Asia Society, Mapping the Nation: Linking Local to Global. It presents multiple indicators including information on jobs tied to global trade driving home the point that graduates in these locales will need the ability to communicate and connect on an international scale.
The increase in globalization means that students must compete in a global labor market. According to the Committee on Economic Development, U.S. employers will increasingly need employees with knowledge of foreign languages and cultures to market products around the globe and work effectively with foreign employees and partners in other countries. Policy and business leaders share a common concern that the quality of the education system is holding back students and economic development efforts. To succeed in the modern world, young Americans must be proficient thinkers and problem solvers. They need to understand the interdependence among the world's societies and are able to view issues and events from the perspective of others from backgrounds different than their own.
The urgent need to ensure all students' have skills in applying knowledge and solving complex problems was underscored by the December 3rd release of the latest results from the Programme for International Student Assessment (PISA). PISA is a test of reading literacy, mathematics, and science given every three years to fifteen-year-olds in the United States and more than sixty-five countries worldwide. The report shows a disturbing gap between our nation's current economic strength and the future human capital with the deeper learning skills needed to sustain and strengthen U.S. growth. For more information about PISA scores and "PISA Day"— a national digital event that the Alliance held along with nine other education organizations—go to
http://www.pisaday.org/.
At the same time, it is of growing concern that socioeconomic disadvantage has a particularly strong impact on student performance in the United States. Other high-performing systems look at diversity as a resource rather than as an obstacle to successful teaching and learning. They have markedly improved the performance of students from minority-language and ethnic populations by raising standards and investing in teachers. They require schools to attend to evidence-based instruction and overcome entrenched biases against students belonging to ethnic minorities. The panelists stressed that U.S. schools must work to counter institutional practices or systems that disadvantage particular groups of learners by considering approaches that affirm students' social and cultural identity.
These four educators focused on the power of innovative schooling designs to outperform schools with similar demographics. For example, the  Asia Society's International Studies Schools Network (ISSN) produces graduation rates that exceed the graduation rate for students in urban school systems—roughly 89 percent versus 61 percent. Seattle's international schools achieved significant gains in proficiency on state achievement tests in reading, writing, and science.
Key takeaways include:
State and district policies along with support and input from businesses, universities, and community partners are essential to sustaining international schools with a focus on global competence and dual language learning. Business leaders stress that graduates must be equipped with the ability to leverage their problem-solving skills, global competence, and out-of-the-box thinking as tools for competitive advantage.
The networks promote inquiry or project-based learning focused on the application of knowledge, skills, and dispositions to global issues. Students are asked to investigate the world, address multiple perspectives, and to frame and communicate solutions to global problems.
By connecting learning at home, in school, and with the world, students develop an understanding of their own race and identity as well as the culture and identity of others.
Networks of international schools develop educators who value diversity and incorporate language development into a meaningful curriculum.
Effective school designs create ongoing opportunities for teachers to participate in collaborative and sustained professional development that encourages interdisciplinary strategies and learning.
Teachers must develop and practice the same global competencies that they aim to cultivate in their students. Highly nuanced communication and collaboration skills are essential for teacher leaders to provide constructive feedback to their colleagues while challenging entrenched biases and institutional practices.
Mariana Haynes is a Senior Fellow at the Alliance for Excellent Education.
Categories:
Uncategorized