Leveraging Innovation to Increase Educational Attainment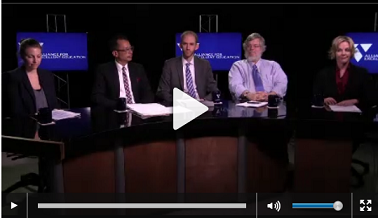 On March 11, in partnership with MDRC, the Alliance held a webinar on leveraging innovation to increase educational attainment, focusing on a number of initiatives that provide powerful evidence of what matters most for student success and school improvement.
If you missed the webinar, you can watch the archived video.
The good news is that as of 2013, the United States posted an on-time high school graduation rate of 81 percent—the highest level since states adopted a new uniform way of calculating graduation rates. Likewise, the knowledge about improving graduation rates and students' college and career readiness continues to accelerate. As a result, over 1.7 million more students have graduated in the past decade, mostly driven by improvements in the graduation rates for African American and Latino students.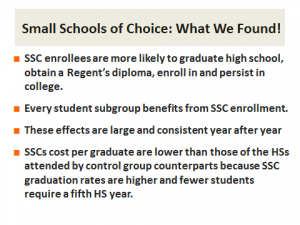 To lead off the discussion, Becky Unterman, K-12 Researcher from MDRC, highlighted the findings from the recent evaluation of the New York City "small schools of choice (SSCs)." The MDRC multi-year, randomized controlled studies include ninety-three high schools and over 14,000 students, mostly from high-poverty areas. The findings show increases in four-year graduation rates of 9.4 percentage points overall—equivalent to 40 percent of the gap in graduation rates between white students and students of color in New York City. Moreover, attending SSCs substantially increases students' enrollment and persistence in postsecondary education.
"Impressively, the effects on college-going are nearly as large as the effect on high school graduation, and nearly every group of students is more likely to attend college," said Unterman.
In follow-up studies of the SSCs with the strongest evidence of effectiveness, principals and teachers report that quality teaching, academic rigor, and personalized learning environments account for the increases in educational attainment. Achieving improvements at scale appears to be less about focusing on the average and more about understanding the sources of variation in student performance within classrooms and schools.
So what will it take to ensure all students are on-track to high school graduation and college readiness? Ron Chaluisan from New Visions for Public Schools (New York) and David Johnson from the Urban Education Institute (Chicago) zeroed in on the problem of "lagging data" that leaves administrators and teachers in the dark about the effectiveness of their practice and the needs of individual students. Closing the feedback loop about why students struggle to stay motivated and on track is critical to driving better performance in high school. Moreover, they emphasized that moving the entire system depends upon the importance of making organizations, not just individuals, change—by driving structured conversations about specific indicators that predict whether a student is likely to graduate.
Researchers and educators are learning that school effects often mask even greater variation in student performance within schools. Many students begin to disengage from secondary school, sending identifiable signals early and often that they are on the path to dropping out.
Studies from Johns Hopkins Everyone Graduates Center and the Consortium on Chicago School Research also produced findings that are yielding substantial dividends. These include:
As students transition to high school, their grades, attendance, and engagement in school decline markedly.
On-track indicators that capture attendance, behavior, and course performance (grades and accumulated credits) predict students' likelihood of graduating.
Students' on-track status is more predictive of high school graduation than their race/ethnicity, level of poverty, or test scores.
Enabling school-level personnel to use the data in designing a range of strategies and interventions is an essential element.
Improvements are effective across all student subgroups and across all levels of incoming achievement.
Providing this information makes it possible for schools to track attendance and course performance and intervene early and more systematically. "We learned early on that more than 95 percent of students who earned a B average during ninth grade eventually were going on to graduate and that a B average becomes a critical rallying point in the research we have done more recently," noted Johnson.
After the Chicago Public Schools began producing real-time data reports for high schools to identify students at risk for dropping out in the ninth grade, the district be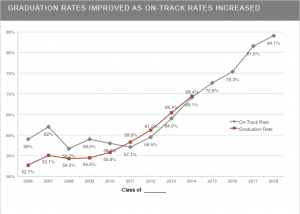 gan to see the first signs of what became sustained upward movement in its ninth grade on-track rates.
"What is stunning is that these increases in on-track were largest among the subgroups of students whom educators and researchers alike have traditionally seen as the most at risk, the most challenging to serve," noted Johnson. On-track rates among African American males rose more than 28 percentage points; Latino males were up more than 25 percentage points. The lowest achieving students in the district—those who enter ninth grade with the lowest standardized test scores gained more than 24 percentage points in on-track over the same period.
Scaling Improvements in High Schools:
How do we scale these improvements? Robert Balfanz, principal investigator and researcher with the Center for the Social Organization of Schools at the Johns Hopkins University School of Education and director of the Everyone Graduate Centers, discussed the factors that account for the marked improvement in national graduation rates. "Much of the progress made in moving the national graduation rate from 71 percent to 81 percent occurred after 2008 when the federal government signaled that accurate graduation rates matter," said Balfanz. As a result, large systems like New York and Chicago began putting together different aggregations of evidence-based strategies. "What we have to do next is find ways to bring what has worked and build the capacity to implement it in the places yet to work the problem."
Balfanz contends that a strong accountability is needed to shine a spotlight on places where more progress is needed. Even though the knowledge base for large-scale improvement has increased dramatically, schools are inherently "crafted-based institutions" and craft-based approaches do not scale. Federal and state systems can play a pivotal role in building incentives for the human system—administrators, teachers, and support personnel—to use data in combination with evidence-based approaches. "What is really exciting is the potential to unlock the existing talent and knowledge in schools in creating more powerful instructional environments and holistic student supports," said Balfanz.
One example of how the federal level can help promote the systematic use of evidence to improve schools and student outcomes is Diplomas Now—co-founded by Balfanz and the recipient of a federal Investing in Innovation grant.  Since 2007, Diplomas Now has developed a nationwide network of schools with three key non-profit partners—Johns Hopkins University, City Year, and Communities In Schools—committed to implementing a data-driven, tiered intervention in secondary schools across a wide spectrum of local characteristics and circumstances.
"Providing personalized interventions and enhanced supports for students often requires additional adult capacity, particularly in schools located in neighborhoods of concentrated poverty," said Balfanz. MDRC will serve as a third-party, independent evaluator of this model that combines comprehensive school reform to transform academic learning along with early warning indicators related to attendance, behavior, and course performance.
Scott Sargrad, deputy assistant secretary for policy and strategic initiatives in the Office of Elementary and Secondary Education (ESEA), discussed a range of federal programs including the ESEA flexibility waivers to capitalize on the growing evidence about what works most to improve schools and student outcomes. Recently, the department issued new regulations permitting the use of School Improvement Grant funds for evidence-based, whole-school models. "Programs that demonstrate some validation require more significant investments to determine whether they produce positive effects on outcomes with different students in different contexts," said Sargrad. He also commented on the need for a strong district role to align resources such as early warning systems along with policies and practices in support of school-level reforms.
The department included increased funding for the Investing in Innovation program in the FY2016 budget as well as guidance on using existing federal formula dollars for interventions and activities with an evidence base. Sargrad made the case for focusing on the use of evidence-based strategies in the pending reauthorization of the ESEA. "There is a role for the federal government to help states and districts systematically learn from each other about what is working and what is not and applying those lessons to improve low-performing schools."
Mariana Haynes, PhD, is a Senior Fellow at the Alliance for Excellent Education and author of "On the Path to Equity: Improving the Effectiveness of Beginning Teachers."
Categories:
Uncategorized