LAUSD Awarded Federal Grant for Linked Learning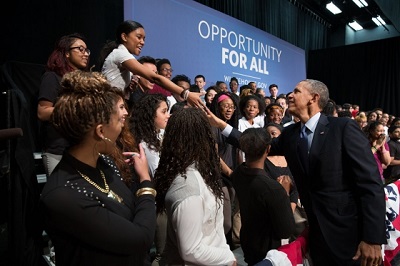 On April 7, President Obama announced 24 winners of $107 million in federal grants that reward school districts for integrating real-life work experience into academic curriculum. The funds come as part of the Obama administration's YouthCareer Connect program, an investment that the president believes will prepare students today for the "in-demand jobs of the future."
The White House describes the program as a national competition that is backed by the U.S. Department of Education and U.S. Department of Labor, to "start redesigning America's high schools for the 21st century economy." Schools are encouraged to partner with local businesses, organizations, and education agencies to incorporate on-the-job skills into traditional classroom learning. Students in these programs across the country are able to earn certificates in different professional fields, after demonstrating mastery of basic skills.
Los Angeles United School District (LAUSD) was awarded a $7 million grant, the highest available to an individual district, for their innovative Linked Learning educational approach. Linked Learning appeals to students' interests in various professional fields to better prepare them for both college and a career. Students on a Linked Learning pathway have the opportunity to expand their critical thinking, communication, and collaboration skills, among many others, by applying their classroom knowledge to real-world experiences.
Linked Learning sets students up for success by making it easier to enter high-demand fields like information technology and computer science by integrating crucial skills with academic content mastery. A new evaluation report found that students in linked learning pathways earn more credits in the first two years of high school compared to their peers.
Obama made the announcement at Bladensburg High School in Maryland, one of several schools in the state that will share an award.
"The idea behind this competition is how do we start making high school, in particular, more interesting, more exciting, more relevant to young people," Obama explained. "We want to invest in your future."
Other winners include the New York City Department of Education, and school districts in Denver, Indianapolis, and Clinton, SC.
"A world-class education means preparing every young person with the skills they need for college, for a career, and for a lifetime of citizenship," Obama said.
Learn more about Linked Learning at https://all4ed.org/issues/linked-learning/.
Categories:
Uncategorized