L.A. Unified Expands Educational Opportunities for Students With Technology Investment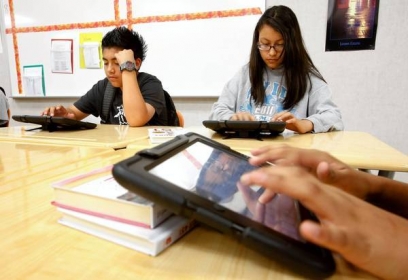 I learned to type on a gigantic – by today's standards – Dell computer. My mom's company purchased top of the line, brand new devices, and allowed employees to purchase the old computers for a fraction of their worth. A colleague of hers helped my mom carry the behemoth to her car, and my brother helped us both carry it inside. We set it on an indestructible old desk, so heavy itself we knew it could bear the weight of the computer.
I turned on the new–to-me device, anticipation building inside with every passing second – until the seconds turned into minutes, and the minutes to many, many minutes. But finally, that old Dell booted up, blinked at me several times, and I connected to the internet for the first time at home. The year was 1997, and I was 12 years old.
I grew up in a single parent, low-income family. I was an ambitious child and student, but that alone couldn't bridge the divide between all the things I wanted to be when I grew up (a lawyer, writer, Olympic gymnast…) and what I needed to learn to get there. My schools couldn't always bridge that divide, either. The computer my mom brought home could, though. (Well, besides the Olympic gymnast part.) That old Dell computer cracked my world open and expanded it so vastly that I could see possibilities and opportunities that I never knew existed.
Don't get me wrong—technology alone can't close wide achievement gaps and ensure that every child receives an excellent education—but it's an important component that, when paired with quality teaching, a rethinking of the use of time, and a comprehensive digital learning strategy, can significantly improve outcomes for all students.
This week, the L.A. United School District in California signed a $30 million contract with Apple computers to provide every student with an iPad. The district is the second largest in the nation, and an overwhelming majority of its students are low-income and Hispanic. The students and teachers had an opportunity to test various handheld devices, and the iPad won in terms of usability, versatility, and price. The district plans to roll out the devices – pre-loaded with educational software – at 47 campuses.
The decision out of Los Angeles marks a milestone in the growing movement for improving digital access and technology upgrades in schools. It comes soon after President Obama spoke in Mooresville, North Carolina promoting ConnectED, an initiative to provide high speed internet access to 99% of students throughout the nation within five years.
Having 24/7 access to challenging, current curriculum, news, and information sharing shouldn't be a privilege for the wealthy; every student should have that opportunity. This week, the nation came a little bit closer to educational equality with L.A. Unified's commitment to expanding educational opportunities through technology for their students.
"I can sleep tonight with my conscience clear," said L.A. Unified Deputy Superintendent Jaime Aquino, "that [the Board of Education] did the right thing for kids."
Cyndi Waite is the communications associate at the Alliance for Excellent Education.