Keeping the Lights On Afterschool

October 15, 2013 02:49 pm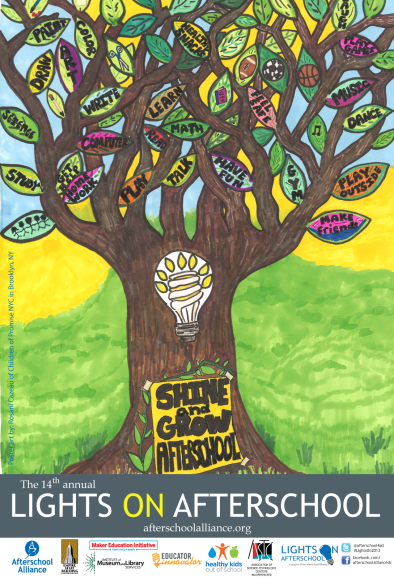 This guest blog post comes from Kamila Thigpen at the Afterschool Alliance. the nation's voice for afterschool. The Afterschool Alliance is working to ensure that all children have access to affordable, quality afterschool programs. 
The Afterschool Alliance invites you to help celebrate the 14th annual Lights On Afterschool! This October, more than 1 million kids, educators, families and communities will come together at thousands of events around the country to raise awareness about the wide range of creative and innovative learning experiences taking place outside of school, and the integral partnerships that help make them happen.
We know that when the school bell rings, kids take off in a number of different directions.  Some may stick around for school-based extended learning programs, while others may head to their local libraries, museums, science centers, recreation centers or community-based organizations like YMCAs, Boys and Girls Clubs, and After-School All-Stars. Wherever the setting may be, afterschool programs allow kids to take part in activities that build on what they learn during the school day and dive deeper into their interests.
Often, they provide unique opportunities for youth to engage in digital media and learning activities grounded in interest-powered, peer-supported and academically-oriented learning principles. As youth engage with digital media in informal learning environments, we often find that the afterschool programs provide an outlet for self-expression and a platform to assert youth voices within the local and global community. Programs like Green Energy Technologies in the City (GET City), YTECH, and Wide Angle Youth Media are great examples of how the use of digital media in afterschool settings helps complement and reinforce school curriculum. You can also check out these connected learning case studies for more examples of in-school and out-of-school programs that are using digital media to reimagine how kids learn.
Lights On Afterschool is an excellent opportunity to showcase the ecosystem of informal learning opportunities that engage and inspire youth in your community. Whether you're a teacher, school administrator, parent or policymaker, you can help "keep the lights on" by attending or registering an event. If you aren't affiliated with an afterschool program, it's a great time to familiarize yourself with the informal learning opportunities in your community. If you are connected to a local program, Lights On Afterschool can be an easy and effective way to raise money, educate policy makers about the importance of your program, get local media coverage, and connect with like-minded educators.
However you decide to celebrate, we hope that you'll join us in supporting the afterschool programs that keep kids safe, inspire them to learn and help working families!
The Afterschool Alliance is a proud partner in Digital Learning Day. Check out our special toolkit of resources for afterschool and other expanded learning programs. Afterschool programs are welcome to participate in Digital Learning Day and can sign up any time.
Categories:
Uncategorized