It's Not Always Bigger and Better
It's Thursday, which means it's time to talk digital learning! The following blog post comes from Jeremy Macdonald, the Integrated Technology Systems Coordinator for Bend-La Pine Schools in Bend, Oregon.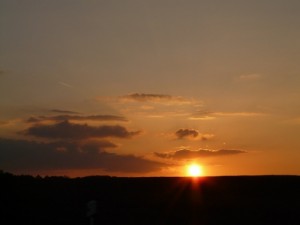 As of this Monday, April 15, I will be the new Integrated Technology Systems Coordinator for Bend-La Pine Schools in Bend, Oregon. It's a new job for me and a big move for my family. It's been bittersweet. As time has passed getting ready at home and at school, I have reflected on my experience here in Klamath, the last seven years, and what it will mean to leave my school.
Part of this reflection included me taking and sharing a series of pictures, of memories.
In response to one of these pictures, a friend of mine on Facebook asked, "Off to bigger and better things?"
While innocent, the comment caught me off guard. I had to ask myself, "Am I moving on to bigger and better things?"
The school district is a lot bigger. The town is a lot bigger. I'm working with all 24 schools, so I guess that's bigger. But does that mean it's better? I started at Mills Elementary School seven years ago. I was a total newbie. Heck, I even had braces at the time. A lot has happened since. A lot of students have come through my classroom doors. A lot of learning has happened and re-happened in my classroom. Everything that has happened here has set a precedent for me on which I will base many of my future experiences. So struggle to say if anything after this will be better. In education, I like to look at things, at students, and classes, at school years as merely different. Each one providing me with a new challenge or unique experience. Each one as special as the next. I think I would have to rank them in order to find one that is better or even the best. And I just cannot do that, at least not now.
My new role will be exciting. It is something that I have wanted to do for the last few years. I will be focusing on professional development. I will obviously be helping integrate technology into student learning, but I hope to make it more about just that – student learning – and less about the technology. I hope to relearn and rethink what is happening in Bend-La Pine Schools along with my new colleagues. In a smaller degree I have done it, but only with my school. Even then, it was with a small team. The experiences that await me, like the last seven years, will be challenging and unique. But will they be better? I don't know. Probably not. Just different, I imagine.
So I really didn't have much else to reply to him other than,
"…just new things :)"
Jeremy Macdonald is the new Integrated Technology Systems Coordinator at Bend-La Pine Schools. His posts usually appear on the second Thursday of each month. Read his previous posts here. Find more information on Mr. Macdonald on his website at http://www.mrmacnology.com. You can also follow him on Twitter at @MrMacnology.