International Dot Day: A Big Idea and Small Moments

October 04, 2013 04:15 pm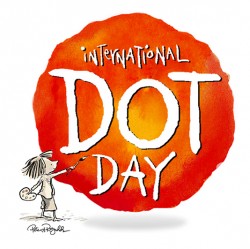 This guest blog post comes from Michele Norman of The Reynolds Center for Teaching, Learning, and Creativity. 
At the Reynolds Center for Teaching, Learning and Creativity (TLC), we believe that continuous improvement in education is as much about small moments of connection, inspiration and understanding as it is about big ideas. As best-selling author and illustrator Peter Reynolds says, "Despite the test-centric world we all live in, creative teachers know how to find those a-ha moments – much the same way that my 7th grade math teacher Mr. Matson "connected the dots" between math and art, which changed my life."
Reynolds' book The Dot showcases that theme through the tale of a caring teacher who invites a doubting student to trust in her own abilities, inviting and encouraging her to be brave enough to "make her mark." The student begrudgingly rises to the challenge and a small dot on a piece of paper becomes a breakthrough in confidence and courage, igniting a journey of self-discovery and sharing. In 2009, a group of teachers began celebrating the anniversary of the book's publication, September 15, as International Dot Day – a day for teachers and students to explore the story's powerful themes of bravery, creativity, and self-expression.
With a simple invitation to be creative – to make a mark and see where it takes you – International Dot Day is transforming teaching and learning around the world. Through International Dot Day people of all ages are re-discovering the power and potential of creativity in all they do.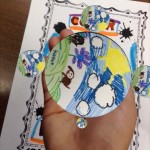 This year, more than 1.3 million people in 84 countries participated in Dot Day and the nature of the celebrations were as varied and unique as the participants themselves. Employing myriad tools and technologies from the no-tech and low-tech to high tech, this year's Dot Day participants used paper, scissors and paste as we as digital tablets, mobile apps, video, Skype and more. Some celebrated Dot Day as part of art class, PE class, and History class. Dot Day did not distract from the curriculum but served as the inspiration and context for STEM lessons, writing lessons, music lessons and geography lessons as well as for leadership development programs and at the Hue Central Hospital in Vietnam, International Dot Day was the theme for a day of collaborative art activities for children being treated for Leukemia. For more examples of International Dot Day projects, visit International Dot Day on Facebook  and Pinterest.
The Reynolds Center (TLC) is honored to be a Digital Learning Day partner.
Digital Learning Day offers the critical blend of the big idea (the effective integration of technology in teaching and learning) and small moments between and among teachers and students. Digital Learning Day not only calls for the meaningful integration of technology tools but
is showing people how it is done. For more information about International Dot Day, and to access the free Dot Day educator guide and other resources, visit Peter H. Reynolds' The Dot Club. Sign up and be part of the growing global community of creativity champs and stay connected with us year round by following us on Twitter @DotClubConnect.
Categories:
Uncategorized