In State of the Union, President Obama Calls for New High School Competition

February 14, 2013 07:48 pm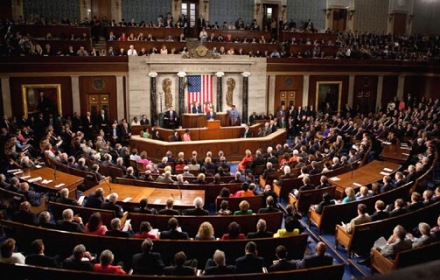 As an education advocate I was a little hot under the collar after President Obama's inauguration last month. Despite the soaring rhetoric and vision of where he hoped to take our country in the next four years, I thought education got relatively short shrift in the speech given education's potentially transformative effects on the economy and the country's standard of living overall.
After Tuesday's State of the Union, I'm still fired up, but for far different reasons. The President paid education significant attention to education issues from early childhood to higher education and an important point in between for us here at the Alliance for Excellent Education: the nation's high schools.
The President built up to his secondary school pitch by talking about renewing the nation's focus on pre-K programs:
Every dollar we invest in high-quality early education can save more than seven dollars later on – by boosting graduation rates, reducing teen pregnancy, even reducing violent crime. In states that make it a priority to educate our youngest children, like Georgia or Oklahoma, studies show students grow up more likely to read and do math at grade level, graduate high school, hold a job, and form more stable families of their own. So let's do what works, and make sure none of our children start the race of life already behind. Let's give our kids that chance.
This was followed up by a call to "make sure that a high school diploma puts our kids on a path to a good job." President Obama highlighted P-Tech, an early college high school serving grades 9-14 in Brooklyn, where students graduate with both a diploma and an Associate's degree in a field related to computers or engineering. Why the specific field focus? The schools is a joint endeavor between New York Public Schools, the City University of New York, and IBM that intends to give students the skill equivalents to an entry-level position with that corporation.
Citing a need to give "every American student opportunities like this," the President proposed a new competition that would award funds to high schools that "develop new partnerships with colleges and employers, and create classes that focus on science, technology, engineering, and math." This new competition is intended to "better equip graduates for the demands of a high-tech economy," which is a critical mission given the 3.6 million jobs sitting unfilled across the country because of a lack of applicants with the knowledge and skills to fill them. This focus on high schools is welcome and comes at a time when preparedness for college and career has never been more important.
The speech then moved on to higher education, where the President admitted that even with improved high schools, higher education will still be necessary for most students. President Obama echoed a message that the Alliance has made repeatedly over the years: "It's a simple fact: the more education you have, the more likely you are to have a job and work your way into the middle class." The higher education portion of the speech was largely focused on affordability and debt rather than on changing the focus of the student aid system to be on completion rather than access, a topic on which the Alliance and a number of other organizations recently released white papers. In order to provide students and their families with more information when selecting a postsecondary institution, Obama administration released yesterday their College Scorecard.
Federal education policy often overlooks high schools, and we are pleased that high schools received significant attention. The attention paid to secondary schools and preparing students for college and career resonates strongly here at the Alliance. We look forward to working with policymakers on the new high school competition to promote ways that secondary schools across the country can produce students better prepared to compete in the global economy.
To read Alliance President Bob Wise's statement on the State of the Union, click here. Click here for the full text of the State of the Union. For supporting documentation of the speech (for those who love to dive into the details) click here.
Categories:
Uncategorized