In Memoriam: Ron Thorpe, National Board for Professional Teaching Standards President and CEO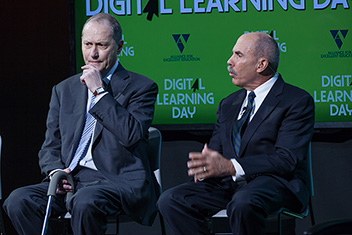 The death of Ron Thorpe, president of the National Board for Professional Teaching Standards (National Board) leaves much to mourn, but also much to celebrate about his life, as evidenced by the memorial page on the National Board's website. Even more importantly, Ron leaves a legacy that will continue to advance the nation's students and teachers.
I came to know Ron well when he became president and CEO of the National Board. As chair of the National Board's board of directors, I soon realized I was working with a transformational leader. He brought a vision formed by both experience and aspiration. He constantly communicated a genuine love and deep respect for teachers and their profession. For Ron, the National Board was the means to extend the lessons learned in the National Board certification process to the entire teaching profession. He pushed to the top of the National Board's agenda the rollout of Accomplished Teaching, Learning and Schools (ATLAS), an easily searched set of online authentic videos showing Board Certified teachers at work in the classroom. Drawing upon his media and production experience, he launched the National Board's annual Teaching and Learning Conference drawing teachers from every state. At the 2014 Teaching and Learning Conference, U.S. Secretary of Education Arne Duncan announced a partnership with Ron in launching Teach to Lead to promote teacher leadership across the nation. (see Secretary Duncan's moving tribute at http://www.ed.gov/blog/2015/07/ron-thorpe-in-memoriam/).
Increasingly I saw educational leaders and organizations seeking National Board collaboration because they saw the quality of Ron's leadership.  He actively sought out opportunities to partner with like-minded organizations. And he recruited an incredibly knowledgeable—and dedicated—staff.
Leading a mission-based organization such as the National Board is like a baseball team; there are different positions with different skills required. During my life, I have had the opportunity to observe many strong organizational and movement leaders. By definition, they play some positions better than others. Some communicate a vision. Others inspire loyalty. Some are proficient administrators. For most, fundraising is an essential activity. Some have an affinity for the nuances of policy development and advocacy. Most leaders have some of the skills, but require others to complement them. Ron is one of the few organization leaders I have seen in education that brought all the skills. When he showed up each day for work, he represented the entire team from pitcher to outfielder.
Ron leaves many legacies. Perhaps the most important is his impassioned—and impatient—advocacy for the teaching profession defining what being a teaching professional should mean. He extensively researched how the medical and engineering professions developed their professional standards and defined what it means to be a member of their profession. Ron wrote, argued, appealed and moved many to begin thinking how to accomplish this. (Read his paper, "Sustaining the Teaching Profession," in the New England Journal of Public Policy. He loved teachers and what they did for children; he would become reverent describing the many skills and competencies required to be a quality teacher. He understood that this epic period in education was time for the teachers to shape and define their profession. He was well on the way to leading many to achieving this.
Ron Thorpe leaves much to celebrate and even more to fulfill. He brought a vision combined with a competency for implementation that is unmatched. He also left us, both on the National Board and in education, a momentum to build upon. Anyone involved in education will feel Ron's impact for many years to come.
Bob Wise is president of the Alliance for Excellent Education and former governor of West Virginia.
Categories:
Uncategorized