In Joint Address to Congress, President Trump Calls for Education Bill Funding School Choice for Disadvantaged Youth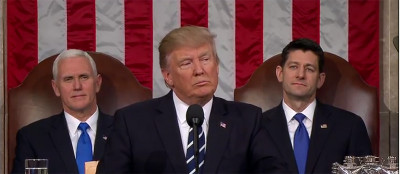 In last night's speech to a joint session of the U.S. Congress, President Donald Trump called on Congress to "pass an education bill that funds school choice for disadvantaged youth, including millions of African American and Latino children."
Trump said families participating in the program should be able to choose the "public, private, charter, magnet, religious, or home school that is right for them," but he did not mention how much the program would cost or whether the money would come from existing education programs. Such details could come when President Trump sends his budget outline to Congress on March 16 or within his full budget proposal, expected in May.
Earlier this month, Politico reported that the Trump administration could pursue a "first-of-its-kind" federal tax credit scholarship program for the president's school choice proposal. Such a program could be included in a larger tax reform bill that would only require a simple majority vote to pass the U.S. Senate. Perhaps hinting at his intentions, Trump recognized Denisha Merriweather, who was sitting in the audience last night, as someone who has benefited from a tax credit scholarship.
"As a young girl, Denisha struggled in school and failed third grade twice," Trump said. "But then she was able to enroll in a private center for learning with the help of a tax credit scholarship program. Today, she is the first in her family to graduate, not just from high school, but from college. Later this year she will get her master's degree in social work. We want all children to be able to break the cycle of poverty just like Denisha."
Also potentially impacting education funding is Trump's proposal to significantly increase defense-related spending—an increase that Trump called "one of the largest increases in national defense spending in American history" during last night's speech. Trump is expected to fund the increase through cuts to other federal agencies, which could potentially include the U.S. Department of Education. More details are expected later this month.
Jason Amos is Vice President of Communications for the Alliance for Excellent Education.