In Case You Missed It: Robert Rothman Discusses PISA Results on C-SPAN

January 03, 2014 03:30 pm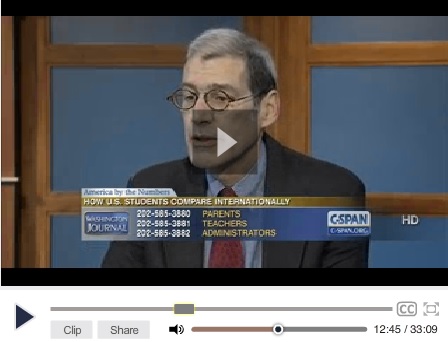 "It's concerning that high school students' performance has not improved at a time when there's a greater need for higher academic performance," says Robert Rothman, senior fellow at the Alliance for Excellent Education, in a C-SPAN segment on the results of the 2012 Program for International Student Assessment (PISA).
PISA measures 15-year-old students' reading, math, and science literacy. The results of the 2012 assessment were released last month. The United States remained steady in its scores, but compared with their international peers, the country did not fare well. US students scored below average in math and around average in science and reading. Asian countries topped the charts, with Finland on the rise.
In the segment, Rothman speaks about the report's numbers and trends, as well as policy implications from the PISA results. He emphasized the need for the Common Core State Standards and their potential to improve US students' critical thinking skills and ability to solve real-world problems. Shanghai, he notes, scored particularly well in math, in large part because of the way it teaches its students.
"One thing that Shanghai has done – that maybe the United States is moving toward – is emphasizing what they expect students to know is not just to drill students on facts but to make sure that they understand concepts and have opportunities to apply their knowledge to real problems, which is what PISA measures. It's not a test of what you've learned in school but how well you can apply what you've learned to real-world problems," Rothman said. "The United States is moving that way with the Common Core State Standards."
Massachusetts students performed best among United States students.
To hear more of Rothman's analysis, watch the entire segment on C-SPAN.
Categories:
Uncategorized