Improving Beginning Teacher Effectiveness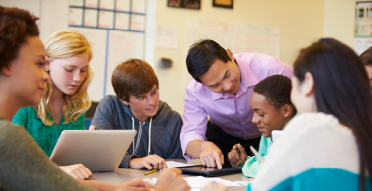 Recently I attended the Third Annual Mid-Atlantic edTPA Implementation Conference at Towson University, Maryland. This conference brought together educator preparation program faculty, state and local education agencies, and K-12 leaders from Delaware, the District of Columbia, Maryland, New Jersey, New York, Pennsylvania, Virginia, and West Virginia to focus on the implementation and impact of edTPA, a performance assessment that provides evidence that teachers beginning their careers are ready to teach.
Teaching quality is recognized as the most powerful, school-based factor in student learning. Yet, as a nation we have fallen short in providing all students with equitable access to effective teaching. Teaching tends to be average, not exceptional, and most teachers lack critical competencies essential to meeting new rigorous learning standards. While a series of superior teachers can close gaps between low-income students and their more advantaged peers, the residual effects of having ineffective teachers over multiple years are devastating. Unfortunately, commitment has rarely existed across state and district lines to ensure all students have equitable access to effective teaching. Until now…
States and districts are beginning to tackle persistent gaps in students' access to effective teaching, particularly for students with the greatest needs. edTPA, a rigorous, validated, standards-based performance measure, similar in design to the National Board for Professional Teaching Standards, offers actionable data to support continuous improvement of preparation programs, teacher candidates, and school-based clinical experiences. Thousands of teacher educators and P-12 teachers provided input into edTPA's development led by Stanford University's Center for Assessment, Learning, and Equity (SCALE) in partnership with the American Association of Colleges for Teacher Education (AACTE). More than 641 campuses in thirty-five states are using edTPA to determine if teacher candidates are ready to teach. Thirteen of these states have already initiated associated licensure and program accreditation policies.
The conference in Maryland focused on the educative value of edTPA and the importance of empowering professional educators—within institutions and within K-12—to lead edTPA implementation and its use. For example, teacher preparation programs and K-12 schools and districts are encouraged to augment "official scoring" with local evaluations of candidates' portfolios. The goal is to deepen their understanding of edTPA rubric constructs central to effective teaching, and to strengthen the quality of coursework, clinical experiences, and feedback and support for candidates. edTPA captures critical dimensions that research shows are linked to teacher effectiveness and student learning such as—
planning instruction to support learning goals and student needs;
engaging students in ways that deepen their learning;
creating meaningful tasks and providing feedback on student work;
supporting student learning of academic language; and
analyzing their teaching in relation to student learning and making plans to further students' progress.
In addition, edTPA embeds subject-specific components for student learning and pedagogy in each of its twenty-seven certification area versions.
The inclusion and engagement of teacher educators and their K-12 partners was evident. The University of Maryland is in its sixth year of edTPA implementation; Morgan State is in its fourth—in a state that does not have as yet a performance assessment policy. These professionals, who are choosing to use edTPA, celebrated the commitment of their colleagues, their institutions, and their K-12 partners in improving candidate performance and ultimately K-12 student learning. To learn more, here are two voices from the conference: A Principal's Perspective: Five Takeways From Teacher Discussion on edTPA by Evelyn Perry, an elementary school principal in Baltimore, Maryland, and Member Voices: edTPA Data Help Ensure Readiness to Teach by Diana Lys, director of assessment and accreditation at East Carolina University. 
Mariana Haynes is a Senior Fellow at the Alliance for Excellent Education.
Categories:
Uncategorized