'I am the first' campaign prepares students to complete college

February 21, 2013 03:15 pm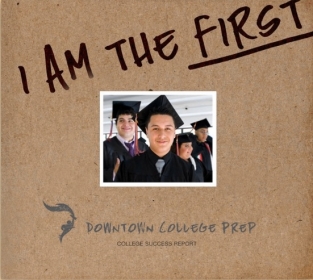 I am the first in my family to graduate from college.
I am the first.
Downtown College Prep (DCP) is a charter school in San Jose, California that serves an underserved student population; the school is 90 percent low-income and 96 percent Latino. Over 40 percent of the students' parents don't have a high school diploma. And yet, DCP alumni have among the highest rates of college matriculation and are more than four times likely to complete college than their peers nationwide. What kind of miracle is DCP working?
DCP has a vision that reaches beyond a high school diploma; they want every student to be prepared for college and a career, and they're putting their resources where their goals are. DCP has added "college" as a "second language," meaning they spend school time helping students to navigate the financial, social, logistical and mental demands of college. They prepare their students to succeed by teaching them what they call "the inside game" that is college.
As a low-income, first generation college graduate, I am personally moved by and applaud DCP's efforts to prepare their students for the realities of postsecondary education. I would have benefited from a counselor, teacher, or any academic role model in my high school taking the time to explain and walk through the Free Application for Federal Student Aid (FAFSA) with me, the complicated web of federal and private student loans, staying in college when finances became difficult, and the social, mental, and emotional pressures I would face as a low-income student. The next step is bringing measures like the ones DCP has taken into every school – even the mid-size, suburban, public high schools like mine, to prepare every student to enter and complete college.
DCP encourages their students to share their vision of a receiving a college diploma to display alongside their high school one. Last week they released their college success report, "I am the first," that explores the various ways they are working to bring their students up to grade-level in high school and complete postsecondary degrees. The school spent two years surveying its graduates to draw conclusions on what influences college success for low-income, first-generation students.
Students who attended the report launch made signs detailing how they are the first:
"I am the first in my family to go to high school."
"I am the first to study law."
I am the first.
You can read the full DCP college success report here, and you can read the Alliance's recommendations for fixing the broken federal student aid system, making it more accessible for all students – especially low-income and first-generation, to access and complete college here: Reparing a Broken System: Fixing Federal Student Aid.
Cyndi Waite is the communications associate for the Alliance for Excellent Education
Categories:
Uncategorized