How to Prevent a Summer Slide
Rising temperatures and longer days mean one thing to kids across America: school is out for summer. But as school doors shutter and students return home for summer vacation, one major question looms on the minds of parents and educators. How can we prevent summer learning loss?
What is the Summer Slide?
Also known as "summer slide" or "summer melt," summer learning loss is when students return to school in the fall with achievement levels lower than when they left for their summer break. Recent research from the Brookings Institute shows that
(1) students' achievement scores declined over summer vacation by one month's worth of school-year learning,
(2) declines were sharper for math than for reading, and
(3) the extent of loss was larger at higher grade levels.
Worse still, this phenomenon may disproportionately affect students from low-income families. The research from Brookings also shows income-based reading gaps, with middle-class students improving in reading skills and students from low-income families experiencing loss during the summer months. In addition, African American and Latino students "tended to gain less over the school year and lose more over the summer compared to white students."
Summer Experiences Play a Part
Exploring the "why" in this situation is no easy feat, with so many factors contributing to this learning loss and the gap in student experiences.
The U.S. Department of Education surveyed parents and released a new study on the summer learning experiences of kindergarten students, including their exposure to art, music, and theater. The study shows that nearly two-thirds of students from "non-poor" families visited art galleries, museums, or historical sites with their family members during the summer, compared with only one-third of students from "poor" families.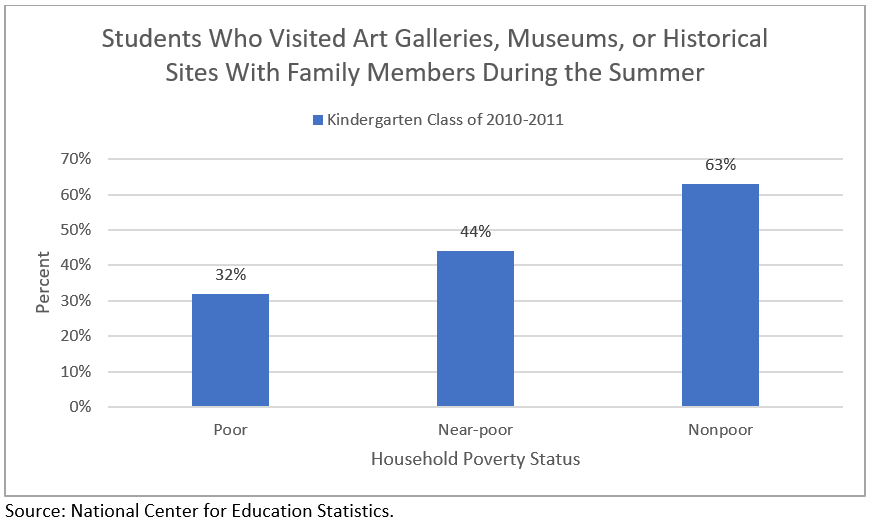 Chalkbeat explores this 'shadow education system,' and the benefits of these out-of-school learning experiences that low-income students are missing.
"Students who took a trip to an art museum were more interested in visiting such museums in the future; the experience seems to boost students' critical thinking skills, and may even increase math and reading test scores," writes Chalkbeat's Matt Barnum.
Resources to Prevent Summer Learning Loss
Parents and educators looking to ease a potential summer slide for their students can take advantage of this list of nine key resources and learning opportunities compiled by eSchool News.
Highlights include the Scholastic Summer Reading Challenge, which runs through September 7, 2018, child-friendly cooking recipes that help reinforce volume and measurement skills, and hopscotch games that hone in on math skills like addition and counting by multiples.
Have other suggestions or resources? Share them in the comments section below!
Photo by Allison Shelley/The Verbatim Agency for American Education: Images of Teachers and Students in Action.