How the Common Core State Standards Can Change Classroom Practice

October 31, 2013 11:59 am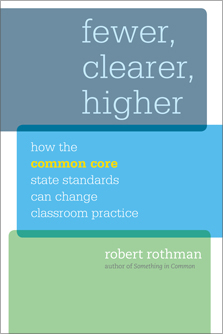 Many of the discussions about the Common Core State Standards use the metaphor of "raising the bar." Search Google for "Common Core raising bar" and you get 11,600,000 hits.
It is true that the standards raise expectations for students and ask them to do more than most previous state standards required. This does not necessarily mean that the previous standards "dumbed down" expectations, as some have alleged. It means rather that the Common Core Standards are aimed explicitly at the knowledge and skills all students need to succeed in college and workplace training programs. That's a new expectation.
But the "raising the bar" metaphor misses the mark and understates the real impact of the Common Core State Standards. If all they did was raise the bar—require pole vaulters who once jumped ten feet to jump eleven feet instead—then teachers could do pretty much what they had been doing, but expect students to work a little harder and show better results on the same skills and knowledge.
But the Common Core State Standards in fact expect teachers and students to do many things that are different from what many had done in the past. In that way, a more appropriate sports metaphor might be figure skating: now students who had done single toe loops are expected to perform a triple axel. Preparing students for these expectations will require some changes in practice, not just bearing down on existing practices.
In a new book, Fewer, Clearer, Higher: How the Common Core State Standards Can Change Classroom Practice (Harvard Education Press, 2013), I outline nine shifts called for in the Common Core and describe ways that they might be implemented in practice. These are:
Less is more: the mathematics standards focus on fewer topics, particularly in elementary schools. This means that teachers need to eliminate some topics that they had addressed and spend more time on topics in depth.
Achieving coherence: The math standards chart a logical progression of knowledge and skills from grade to grade, so that teachers can build on prior knowledge and track progress over time. In addition, the standards are coherent within grades, so that lessons in, say, geometry, build on lessons in measurement.
An end to the math wars: The standards emphasize procedural fluency, conceptual understanding, and problem-solving; teachers need to build lessons that enable students to demonstrate all three.
Covering all the bases: The math standards include eight standards for mathematical practice, which emphasize the ways of doing mathematics, in addition to knowing mathematics.
Just the facts: The English language arts standards call for a substantially higher proportion of nonfiction reading—but this reading should take place in all subjects, not just English classes.
Prove it: The ELA standards place a strong emphasis on the use of evidence from texts. Teachers need to provide opportunities for close reading and for writing that calls on evidence to support conclusions.
Up the staircase: the ELA standards call for students to demonstrate an understanding of appropriately complex texts—a challenging expectation for many students.
Elevating discussion. The ELA standards include explicit standards for speaking and listening and expect students to demonstrate these abilities, as well as reading and writing.
A role for everyone: The ELA standards also include standards for literacy in science, social studies, and technical subjects, making clear that there is a role for reading and writing in all subjects.
Many of these shifts will pose a challenge for teachers, and there is some evidence that teachers are finding them challenging. For example, a study released recently by the Thomas B. Fordham Institute found that a majority of elementary teachers continue to assign books based on children's perceived reading levels, rather than grade-level complexity.
Most states and districts are hard at work implementing the standards. There is a lot of work left to do. The first step is making sure that teachers understand the standards and what they imply for instruction. But it shouldn't be too heavy of a lift to convince teachers to do what they need to do—provided they receive appropriate support. Teachers enthusiastically support the standards and say they represent the kind of learning they want for students. With help, they can make sure that all students earn a gold medal.
Robert Rothman is a senior fellow at the Alliance for Excellent Education and author of the new book, Fewer, Clearer, Higher: How the Common Core State Standards Can Change Classroom Practice.
Categories:
Uncategorized