How PISA Can Keep Students from Being Duped by Fake News

January 08, 2018 12:46 pm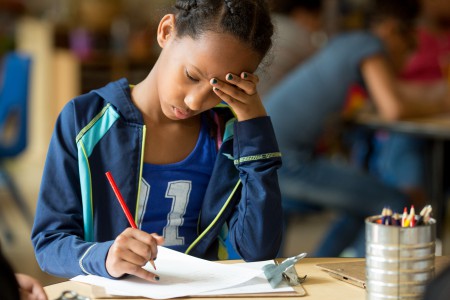 In the past, when students gathered information for a report or term paper they usually read an entry in an encyclopedia or visited a few well-regarded webpages to get what they needed. But that no longer is sufficient. Students now must be acute critical thinkers, able to judge the quality of websites they visit and the information they collect.
The literacy of the twenty-first century requires "constructing and validating knowledge," says Andreas Schleicher, director for education and skills and special advisor on education policy at the Organization for Economic Co-operation and Development (OECD). Literacy no longer is simply about "extracting" knowledge from written text, Schleicher explains in the video clip below. Instead, "what can you do with what you know?" he asks.
With this approach to twenty-first century literacy in mind, the OECD launched a new Global Competence Framework for the 2018 Programme for International Student Assessment (PISA). Every three years, PISA tests the reading literacy, mathematics, and science skills of fifteen-year-olds in the United States and more than seventy countries and economies worldwide. As the OECD states, learning "to participate in interconnected, complex, and diverse societies is no longer a luxury but a pressing necessity. Recognizing the unique roles that schools play in preparing our youth to participate in our world, PISA has developed a framework to explain, foster and assess adolescents' global competence."
Critical to this global competence is being a keen consumer and constructor of information. According to the new framework, globally competent students
are able to reason with information from different sources, i.e. textbooks, peers, influential adults, traditional and digital media. They can autonomously identify their information needs, and select sources purposefully on the basis of their relevance and reliability. They use a logical, systematic and sequential approach to examine information in a text or any other form of media, examining connections and discrepancies. They can evaluate the worth, validity and reliability of any material on the basis of its internal consistency, and its consistency with evidence and with one's own knowledge and experience. Competent students question and reflect on the source author's motives, purposes, and points of view, the techniques used to attract attention, the use of image, sound, and language to convey meaning, and the range of different interpretations which are likely for different individuals.
Granted, this set of skills is a lot to ask of young people and even some adults! For instance, a 2016 study from Stanford University finds that "[young people] are easily duped" when "it comes to evaluating information that flows through social media channels." Many young people simply do not have the competencies called out by the OECD's framework. They are unable to triangulate information by seeking confirmation from multiple sources and therefore are unable to evaluate the validity of news and information. To assess whether students have these skills, a task on the new PISA assessment could ask students to argue about the health benefits of chocolate and to use the resources given on the assessment to validate their argument, as Schleicher explains in the clip below.
Critically important is each student's ability not just to land on an answer but to sort through various and often competing sources of information to validate that answer. As delineated by the OECD in its framework, those skills relate directly to an informed and thoughtfully engaged citizenry, the backbone of any democracy. Furthermore, historically underserved students, more so than their peers, do not receive an education focused on the critical thinking and deeper learning competencies that PISA assesses. Consequently, they are even less prepared for various postsecondary pathways and for vigorous engagement in a democratic society. For that society to be reliant on the informed participation of all its members, educational excellence for all must be a goal. As the Stanford researchers wrote in their paper,
Never have we had so much information at our fingertips. Whether this bounty will make us smarter and better informed or more ignorant and narrow-minded will depend on our awareness of this problem and our educational response to it. At present, we worry that democracy is threatened by the ease with which disinformation about civic issues is allowed to spread and flourish.
As Schleicher says in this final clip, there may be some discomfort with PISA questions that force students to confront what is real and what is not. But it is only with this discomfort that real learning and growth can occur.
Abner Oakes is director of outreach and partnerships for policy to practice at the Alliance for Excellent Education.
Photo by Allison Shelley/The Verbatim Agency for American Education: Images of Teachers and Students in Action