How MC2 STEM High School Connects Deeper Learning to Real-World Experiences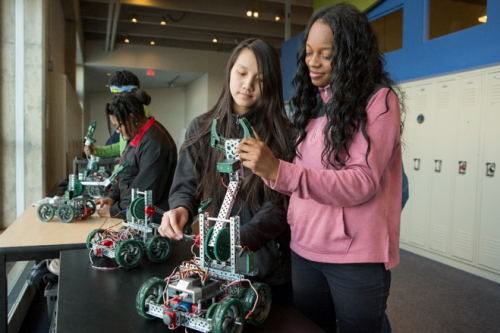 Don't expect to find students sitting passively in neatly rowed desks at MC2 STEM High School. It's far more likely to see students cutting plywood with laser cutters or driving remote-controlled robots down the hall at this open-enrollment high school dedicated to science, technology, engineering, and math (STEM). The school fosters an atmosphere of innovation, both in its physical structure and its approach to instruction, that empowers students to direct their own learning.
MC2 opened in 2008 through a public-private partnership between Cleveland Metropolitan School District, Cleveland State University, and GE Lighting to provide students with an integrated STEM curriculum informed by real-world experiences. The school serves about 400 students, all of whom qualify for free or reduced-price meals and 90 percent are students of color. Students attend classes at three locations around Cleveland: ninth graders at the Great Lakes Science Center, tenth graders at GE Lighting's Nela Park campus, and eleventh and twelfth graders at Cleveland State University.
"We know that there is a long history of students who lack the access or exposure to the STEM fields and lack access and exposure to good programs," says Feowyn MacKinnon, MC2's head of school. "When we were created, we set out to have a program that was open to everybody."
MC2 distinguishes itself from other schools by focusing exclusively on project-based learning. Students pursue interdisciplinary theme-based projects that last for an entire quarter and most culminate in a capstone presentation. This past school year, ninth-grade students participated in a cross-curricular communications project where they explored the power of language and learned how to express themselves through lyrics, poetry, and expository writing. The students also used computer software to compose an original piece of music that they later performed using a sound system and lighting display constructed in their engineering class. Tenth graders, meanwhile, constructed a piece of kinetic art inspired by their history, English, and biology course work in a STEM to STEAM project. Students wrote artists' statements to explain the inspiration for their work and presented their art to their classmates and the community at a schoolwide art show conducted at Cleveland's Museum of Contemporary Art. The Alliance for Excellent Education recognized MC2 for its innovative instructional approach during Digital Learning Day 2016.
MC2 also employees a mastery-based grading system. Students progress through academic content as they satisfy key learning standards and receive credit by demonstrating understanding, not simply by spending a minimum number of hours in the classroom. Consequently, "students can work at their own pace," MacKinnon explains. Teachers and school administrators encourage students to work independently either individually or in self-organized groups. In fact, at several points during the school year the school suspends its regular bell schedule and implements "project time." During this time students are not required to be in specific classes, but rather can move freely between classrooms and meet with teachers and classmates as needed to complete elements of their capstone projects.
"I don't really teach in here. I am just a director of learning," says Kevin Hardin, an engineering teacher at MC2. "What I really try to teach is how do you take an idea and make it a reality. I'm teaching them how to take a big project and break it down into smaller parts. … If you can learn how to figure things out, you can learn anything."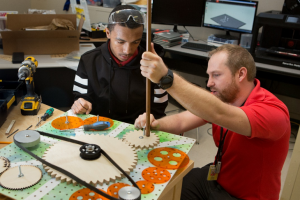 Students say they value the chance to take ownership of their learning, especially since they know their teachers will support them along the way.
"We have more freedom here to do more things. It's actually pretty nice," says tenth grader Angelique. "It's less stressing because the teachers help you with any work you miss, but more stressing because everything is on you. But they don't let us fail here."
Tanzy, a twelfth-grade student, agrees. "This school is different. You do a lot of hands-on things that you wouldn't expect at other schools," she says. "It's easier to learn. The school challenges you and that will help you grow in the future."
MC2 STEM High School is one of seven schools featured in EDUimages, an online gallery of more than 700 original print-quality, royalty-free images of teachers and K–12 students engaged in activities that foster deeper learning. The Alliance for Excellent Education created the gallery with generous support from the William and Flora Hewlett Foundation to demonstrate to school leaders, teachers, parents, and students that deeper learning can succeed in schools of every type with students from all backgrounds. The gallery also includes images from Capital City Public Charter School in Washington, DC; Skyline High School in Oakland, California; Middletown High School in Middletown, Connecticut; Sutton Middle School in Atlanta, Georgia; UCLA Community School in Los Angeles, California; and Wesley Elementary School in Middletown, Connecticut. To see more photos from the collection, visit https://images.all4ed.org/.
Kristen Loschert is editorial director at the Alliance for Excellent Education.
Photos by Allison Shelley/The Verbatim Agency for EDUimages