How Important Are Ninth-Grade Grades to Future Success?

September 26, 2017 12:38 pm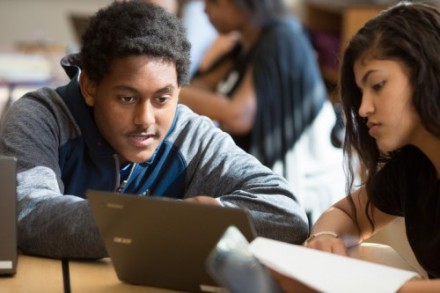 Chicago ninth graders who earn As and Bs experience positive academic outcomes far beyond landing on the school honor roll. Freshmen who earn higher grades are more likely to graduate from high school, enroll in college, and continue their college education for a second year. Furthermore, students' grades during the first year of high school predict the outcomes of these important academic milestones better than do their test scores, according to a new report from the University of Chicago Consortium on School Research (the Consortium). Unfortunately, few ninth graders are earning top marks. In 2013, only half of Chicago's ninth graders ended their year with an A or B grade point average (GPA), with students of color far less likely to earn top marks than their white peers.
Between 2009 and 2011, more than 90 percent of the ninth graders who earned an A or B as their final GPA ultimately graduated from high school on time, according to The Predictive Power of Ninth-Grade GPA. By contrast, only 60 percent of D students and 18 percent of F students graduated four years later, as the graph from the report shows below.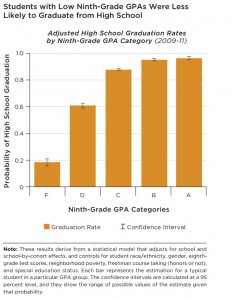 Similarly, 70 percent of ninth graders who earned a GPA of A and 60 percent who earned a GPA of B later enrolled in college, compared to 35 percent of D students and 18 percent of F students, as the graph from the report shows below. Among the students who enrolled in college, more than 80 percent of those who had earned an A average in ninth grade continued their college education beyond the first year. Only about 40 percent of students who had earned an F average in ninth grade remained in college for a second year, according to the report.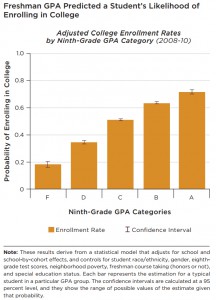 "This study shows that ninth-grade GPA has great value in that it provides a 'signal' indicating the likelihood of future academic success," the Consortium's report says.
The researchers analyzed the freshman-year grades of 187,335 students who were first-time ninth graders between 2006 and 2013 in traditional high schools in Chicago Public Schools (CPS). The study did not include students enrolled in charter or alternative high schools. The researchers calculated students' GPAs by averaging their first and second semester grades in English, math, science, and social studies, giving all classes the same weight regardless of their degree of difficulty. To isolate the unique impact of students' grades on later academic outcomes, the researchers employed statistical methods that allowed them to rule out competing variables that potentially could influence the results. The variables include students' prior test scores; demographic characteristics, including gender, race, special education classification, and socio-economic status; whether the student completed honors or non-honors courses; and systemic differences between high schools and cohorts, such as variations in grading practices.
This approach allowed the research team to compare "students with similar characteristics who entered the same high school in the same cohort" whose only difference was the GPA each student earned, the study explains.
Controlling for such confounding variables was crucial, particularly since the researchers discovered wide variations in the GPAs of different student groups. Although ninth-grade GPAs overall have improved since 2006, GPAs vary widely between high schools, and performance gaps persist for African American and Latino students and students from low-income neighborhoods, according to the report. Only 6.3 percent of African American ninth graders and 12.2 percent of Latino ninth graders earned a GPA of A from 2006–2013, compared to 25.4 percent of white ninth graders and 38.9 percent of Asian ninth graders. During that same time, only 7.3 percent of ninth graders from the poorest neighborhoods earned an A average compared to 16.6 percent of ninth graders from the most affluent communities, as the report's graphs show below.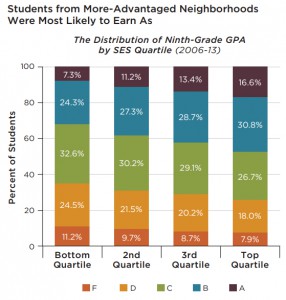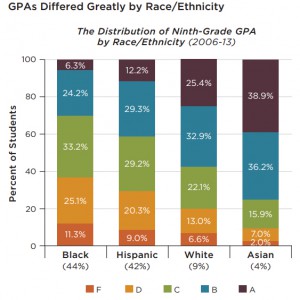 The report does not explore potential reasons behind this "GPA gap," but acknowledges that "[g]rades have been criticized for being 'subjective,' suggesting that teachers apply an uneven or non-objective set of standards when they assign grades." However, by accounting for students' prior achievement test scores in their analysis, the researchers identified "that freshman GPAs measure not only the knowledge and skills students brought with them into high school, but also what they learned during the freshman year … [and] do include an objective achievement component, even though schools and teachers do not use standardized criteria in grading," the report explains.
By monitoring students' grades and the number of credits students accumulate during ninth grade, CPS hopes to keep more students "on track" to graduate from high school. For additional information about CPS's Freshman On-Track Indicator and other ninth-grade transition support programs, see the Alliance for Excellent Education's fact sheet.
Kristen Loschert is editorial director at the Alliance for Excellent Education.
Photo by Allison Shelley/The Verbatim Agency for American Education: Images of Teachers and Students in Action