How ESSA Can Strengthen Educator Recruitment, Development, and Support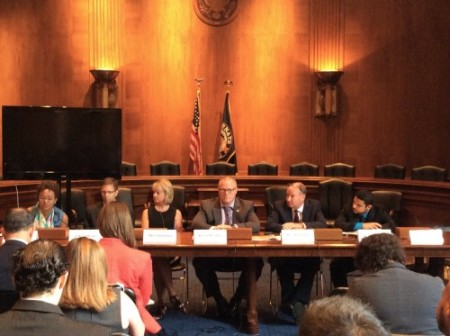 The Every Student Succeeds Act (ESSA) can strengthen the teaching workforce. How? The Coalition for Teaching Quality (CTQ) brought together practitioners from across the country recently for two briefings on Capitol Hill to share current effective teacher recruitment, development, and support strategies, and look ahead to how ESSA can support these practices.
The Senate briefing was hosted by ranking member of the Senate's education committee, Senator Patty Murray (D-WA), and the House briefing by member of the House's education committee, Representative Glenn Thompson (R-PA). To bridge the gap between practice and policy, a panel of teachers and principals from Nevada, Ohio, Pennsylvania, New Jersey, and Washington shared their insight and professional expertise from working on the ground to build a continuum of educator excellence. Participants also heard from experts in state policy, including former Kentucky Commissioner of Education Terry Holliday, who gave recommendations on how states and districts can use ESSA to support and replicate these efforts, and how ESSA can address teacher shortages and retention, as well as increase access to excellent and diverse teachers and school leaders.
The conversation centered around several themes:
Diversity in the educator workforce.
Empowerment of teachers, leaders, administrators, which includes opportunities for career advancement.
The need for funds for training and development to ensure teachers are prepared and supported.
Being intentional and strategic to drive changes in the workforce now and in the future.
The necessity of comprehensive plans for states that consider individuals at all levels, from school leaders to parents and students and at all stages of their career.
During the Senate briefing, Angela Minnici, director of Center on Great Teachers and Leaders, discussed how ESSA funding can be used to implement state equity plans that were required under ESSA's predecessor, No Child Left Behind (NCLB). The state equity plans are meant to inform state and district efforts to ensure that students from low-income families and students of color have access to experienced, effective, and in-field teachers. Minnici, who worked with many states to develop these plans, explained that under ESSA, Title II funds can be used to form and implement strategies for a comprehensive approach to improve the teacher workforce. Therefore, states can use these funds to implement their equity plans, identify shortages, especially in low-performing schools, and recruit, develop, support, and retain educators with the skill sets to help all students, particularly those who are most in need.
For more on how states are working to increase students' access to great teaching through equity plans, visit: https://all4ed.org/reports-factsheets/teacherequityplans/.
Senator Murray expressed the importance of focusing on building teacher capacity in a statement about the briefings, saying, "We all remember a teacher who had a special impact on us—a teacher who stayed late to give extra help; who organized a fundraiser to afford a school field trip or even brought in their own classroom supplies. So it's not surprising that research shows that teachers are the most important in-school factor for improving student achievement. ESSA provides states with important tools to support our nation's teachers, including tools to address current teacher shortages through recruitment, training, and ongoing professional development."
Attendees also shared many key points on Twitter using #ESSAReady:
States & districts should make a long-term investment in recruiting, preparing & developing teachers & school leaders. #ESSAready

— Amanda Karhuse (@akarhuse) June 23, 2016
@NASSP member @david_bechtel1 says empowering teachers by providing them with autonomy can increase teacher retention. #ESSAReady

— David Chodak (@dnchodak) June 23, 2016
Our challenge isn't recruitment, but keeping great educators in the schools that need them most – KY commissioner Terry Holliday. #ESSAready — Amanda Karhuse (@akarhuse) June 23, 2016
"We need a laser-like focus on teaching quality in our highest-need school" –@MinniciAngela #ESSAReady — Teaching Quality (@educatorsforall) June 23, 2016
The need for diversity is a priority, says @aub_gray. "[Students] need to see teachers that have experienced their differences." #ESSAready

— Educators Rising (@EducatorsRising) June 23, 2016
Mentoring teachers is powerful professional learning for both sides of the relationship. #essaready @ncte @educatorsforall

— Jenna Fournel (@Jenna4nel) June 23, 2016
Check out other tweets and photos shared during the events in the below Storify by CTQ:
Did you miss our Congressional briefing last week? Check out our storify https://t.co/MMUJUTBuhi#ESSAReady#TBT — Teaching Quality (@educatorsforall) June 30, 2016
CTQ released three consensus policy papers during the briefings on teacher and principal recruitment, professional learning and growth, and leadership. The papers build upon a previous set of policy papers that called for Title II funds to be used by states and districts to build a continuum of educator excellence, beginning in preparation, providing support in early years, and resulting in accomplished practice and opportunity for advancement to leadership roles. Many of the recommendations were included in ESSA, and now that the law has been passed, the new set of papers seeks to inform states and districts as they shift to implementing the new law. "These are not just papers and recommendations to release and sit on a shelf," said Seth Gerson, director of government relations for National Board for Professional Teaching Standards and co-chair of CTQ. "The more than 100 member organizations of the Coalition—which represent the collective voice of the profession—are ready to partner with congressional, state, and local policy leaders to move this work forward and use these recommendations as blueprints for action." CTQ represents more than 100 national civil rights, disability, parent, student, community, and education organizations, including the Alliance for Excellent Education, advocating for all students to have access to fully prepared and effective educators. Learn more at http://coalitionforteachingquality.org/. For resources on ESSA, including provisions on teachers and school leaders and teacher preparation, visit all4ed.org/ESSA.