How Do the Problem-Solving Skills of American Students Stack Up Globally?

December 05, 2017 09:32 am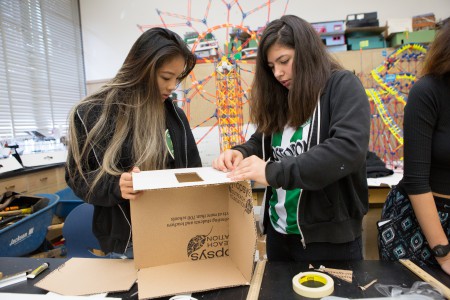 As they look to fill jobs, employers are looking for students who can think critically and solve problems in new and rapidly changing environments. But how well do American students stack up against the rest of the world when it comes to problem solving? Andreas Schleicher, Director for Education and Skills and Special Advisor on Education Policy at the Organization for Economic Co-operation and Development (OECD), stopped by All4Ed's office to offer his insights and share findings from a new OECD report.
Students in the United States performed better than expected on the OECD's new report on problem solving, ranking thirteenth overall. In the videos below, Schleicher offers lessons for educators and school leaders on how to better prepare their students for success in today's economy.
1. Collaboration is Key
When it comes to working together to solve a problem, U.S. students are performing better than predicted. For the first time ever, this PISA examined not only individual skills, but also social skills and how well students can collaborate to solve problems. This is an area where U.S. students are outscoring many of their international peers.
2. Gender and Social Backgrounds Play a Part
Students' gender and social backgrounds play a part in their ability to work together to solve a problem. Students' backgrounds have more of an impact on the development of their social skills, including their ability to work together to solve problems, than on their academic skills.
3. Individual Academic Skills Don't Predict Collaborative Problem-Solving Skills
Simply because students are succeeding in areas like math, science, and reading, does not automatically mean they will excel at problem solving and collaboration. The PISA results show that social skills are not an automatic biproduct of individual skills.
How Can We Improve Students' Problem-Solving Skills?
There are ways to shift instruction to provide opportunity for collaborative problem solving, as Schleicher highlights in the video above. For example, science instruction could involve more inquiry-based learning. A recent All4Ed webinar explored how educators can provide the type of science instruction that enables students to develop critical thinking skills with an emphasis on creativity and innovation. Watch that webinar below.
Why Does This Matter?
"The one thing that we know is when you look at labor demand, the kind of skills that make you successful these days are the capacity to collaborate, to compete, to connect with each other," says Schleicher. Students need content knowledge, but they must also understand how to apply that knowledge across a variety of challenging tasks.
Employers are seeking candidates with skills in critical thinking, communications, collaboration, and other deeper learning competencies. These skills are among the most steeply rising factors in labor demand.
To learn more about the type of instruction that fosters collaboration and enhances students' ability to solve problems, visit deeperlearning4all.org.
For more on the new OECD report, visit tinyurl.com/OECDProblemSolving.
Photo by Allison Shelley/The Verbatim Agency for American Education: Images of Teachers and Students in Action