Help Wanted: Schools Need More than 900,000 Teachers of Color to Keep Up with Growing Student Diversity

September 12, 2016 03:36 pm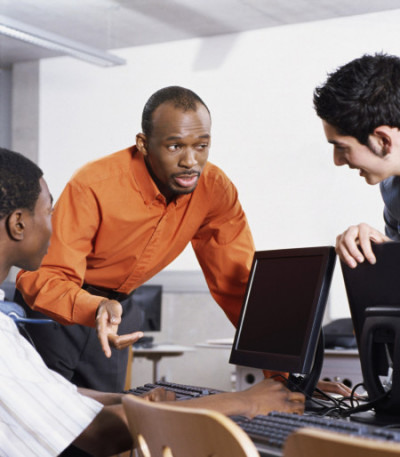 The number of teachers of color in the public schools has doubled since the 1980s, but that growth in teacher diversity has not kept pace with the growing diversity of K–12 students. Although states and local school districts have invested substantially in efforts to hire and retain more teachers of color, recruitment and retention strategies alone are insufficient to close the growing "diversity gap" between the proportion of teachers and students of color in the nation's schools, according to a new report from the Brookings Institution and the National Council on Teacher Quality. Instead of focusing solely on the current teacher workforce, efforts to diversify the teaching profession must build the future workforce as well by increasing college graduation rates for students of color and convincing more of those college graduates to become teachers, the report explains.
"[T]he fundamental bottleneck here is not so much the failure of efforts by districts' human resources offices to hire and retain trained minority teachers … [but] rather, the problem comes both from the low rate of college completion by black and Hispanic students and then the inability to persuade them to consider a career in the teaching profession," says the report, High Hopes and Harsh Realities: The Real Challenges to Building a Diverse Workforce.
Individuals of color now constitute half of the nation's K–12 student population but only 18 percent of the teaching force, the report notes. To close this diversity gap, approximately 1 million white teachers would need to leave the profession while about 300,000 African American teachers and more than 600,000 Latino educators would need to join it. Furthermore, enrollment projections estimate that the nation's student body will become even more diverse in the years to come, as the graph from the report shows below, creating an even greater need for teachers of color.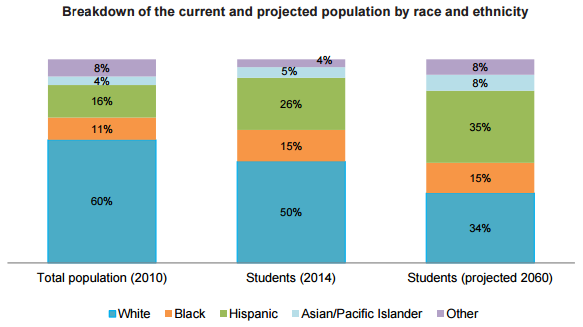 Unfortunately, simply hiring more teachers of color from the existing pool of educators will not reduce the diversity gap, according to the report. If schools hired teachers of color at the same rate as white teachers, the diversity gap would decrease by less than 1 percentage point for African American and Latino teachers.
By contrast, both increasing college graduation rates and raising interest in the teaching profession among students of color offer greater potential to close the diversity gap, particularly for Latinos. Although students of color enter college at similar rates as white students, fewer of them ultimately earn a college degree, the report notes. While nearly half of all white twenty-two-year-olds had earned a bachelor's degree in 2012, only 28 percent of African American and 20 percent of Latino twenty-two-year-olds had done so, the report explains. If African American and Latino students graduated from college at the same rate as white students, teacher workforce diversity gaps would decrease by more than 1 percentage point for African Americans and by 5 percentage points for Latinos by 2060.
Convincing more students of color to become teachers also is essential. White college students major in education at nearly twice the rate of both African American and Latino students, the report says. Additionally, students of color pursue teaching at lower rates even among those students who graduate with a bachelor's degree in education. When surveyed four years after college graduation, 95 percent of white graduates with a bachelor's degree in education expressed an interest in teaching, compared to just 76 percent of African Americans and 90 percent of Latinos who had earned an education degree. If students and adults of color pursued teaching careers at the same rate as white students and adults, the African American diversity gap would decline by 2 percentage points, while the Latino diversity gap would decrease by 7 percentage points by 2060, according to the report.
Ultimately, achieving parity between teachers and students of color requires a combined strategy that focuses on teacher hiring and retention as well as students' college completion and interest in the profession. Such collective proactive efforts to promote individuals of color at every stage of the teacher pipeline potentially could close the African American diversity gap by the year 2022 and the Latino diversity gap by the year 2026, the report concludes.
"Research suggests that students of color benefit from having teachers of color who can serve as positive role models and illustrate the potential of what they can be," said U.S. Secretary of Education John King in reaction to the report. "But we also know that society benefits when all students, regardless of their background, grow up seeing diverse adults in positions of authority. We must do more to support teachers of color at all points across the teacher pipeline so students today can benefit from and become the teachers and mentors of tomorrow. [This] report shows the startling results if we choose to do nothing. Working together, we can choose a different future for our children—one that is diverse and necessary for a well-rounded education that will prepare all students to live, work, and compete in our increasingly interconnected, global economy."
Kristen Loschert is Editorial Director at the Alliance for Excellent Education.
Categories:
Uncategorized