Happy Schools, Happy Students: Supporting Student Well-Being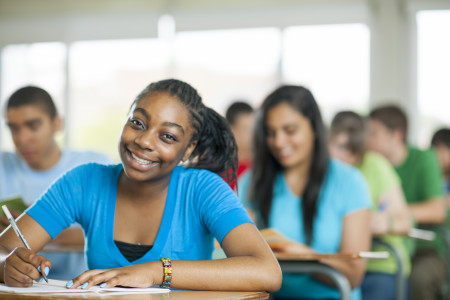 Last month the Organisation for Economic Co-operation and Development (OECD) released its latest report based on data from the 2015 Programme for International Student Assessment (PISA). PISA is a triennial international survey that evaluates education systems worldwide. It tests the skills and knowledge of fifteen-year-olds, and more than half a million students from seventy-two countries and economies took the most recent iteration of the two-hour test.
While PISA is best known for its data on academic outcomes, it also includes an extensive survey that asks students taking the assessment to rate a series of statements about their levels of school work-related anxiety, like the following:
"I often worry that it will be difficult for me to take a test."
"I worry I will get poor grades at school."
"I feel very anxious even if I am well prepared for a test."
"I get very tense when I study for a test."
"I get nervous when I do not know how to solve a task at school."
This new report, PISA 2015 Results: Students' Well-Being, analyzes for the first time the answers to these and many other questions to get at students' motivation to perform well in school, their relationships with peers and teachers, their home life, and time spent outside of school. In an upcoming Alliance webinar on June 6, Andreas Schleicher, director for education and skills and special advisor on education policy to the secretary-general at the OECD, and Richard Wong, executive director of the American School Counselor Association, will discuss findings from the survey and the critical role that teachers, school counselors, and other school personnel play when it comes to student well-being.
Obviously, there are many factors that impact student well-being, from the support that parents provide to their children to the time that students spend online to the structures that school personnel develop to reduce bullying. Particularly important are teachers. As the 2015 PISA data shows, teachers are critical to the academic and behavioral success of their students. In fact, students' relationships with their teachers influence their sense of belonging to a school community.
"Happier students report positive relations with teachers," Schliecher stated in a pre-webinar interview with the Alliance. "Students in 'happy' schools (schools where students' life satisfaction is above the average in the country) reported much greater support from their teachers than did students in 'unhappy' schools." Positive student-teacher relationships involve "[i]nteractions [that] are courteous and kind, and they focus on learning the material and building academic skills," according to Carrie Furrer, a researcher from Portland State University and her co-authors. "It is easy to imagine high-quality relationships in the classroom: people say what they really mean and listen openly to others' perspectives; students provide constructive criticism and are receptive to feedback; the classroom is welcoming but focused on academics, and filled with laughter, challenging tasks, hard work, and mutual satisfaction and respect."
By creating these types of caring and respectful learning environments, teachers can promote the healthy social and emotional development of their students. For historically underserved students in particular, positive relationships with their teachers are especially important to their well-being. Moreover, such relationships can have a greater impact on traditionally underserved students than on their more advantaged peers. The OECD report provides several recommendations for how schools can enhance these relationships. Students, for example, could "be given the means to think critically about inequality—about the obstacles disadvantaged students face and the internal or external resources" needed to overcome them. Meanwhile, professional development can help teachers "better understand the dynamics of social, economic and cultural diversity" so that they are prepared to work with their students to reduce negative effects on the self-esteem of the most vulnerable students.
In schools with strong communities and cultures, teachers do not ignore the effect of socioeconomic differences among their students. Instead, they persevere to identify and address what aspects of these differences may impact the well-being of historically underserved students. With the skillful intervention of thoughtful teachers, students will raise the expectations that they have about what they can accomplish in the future.
To register for the Alliance webinar, Students' Well-Being: How Educators Can Make a Difference, visit https://all4ed.org/webinar-event/jun-6-2017/.
Abner Oakes is the director of outreach and strategic partnerships for policy to practice at the Alliance.
Categories:
Uncategorized